Dear blog friends,
Christmas is approaching, it's the happy time of presents. And what present could I give you? It seems that for the majority, dear readers, you are American. What can I give you Americans?
Ah, I will tell you a Christmas story that I loved, that fascinated me and that remains unforgettable for me.
I am going to celebrate what the man I admire the most, General Patton, did at Christmas 1944. He accomplished a feat that you cannot imagine, a master stroke that defies reason, that made it possible to defeat the German army and win the war.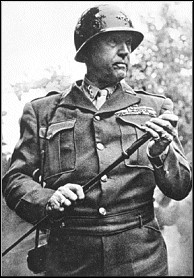 General Patton was a man who prayed to God every day, without worrying about religious frames. He was a member of the Protestant Episcopal Church, he knew the Bible very well and went to church on Sundays, he also liked to go to Mass to pray; he considered reincarnation to be a reality and thought he was a warrior in ancient times, which, according to him, had developed his gifts as a strategist and his psychic gifts of clairvoyance.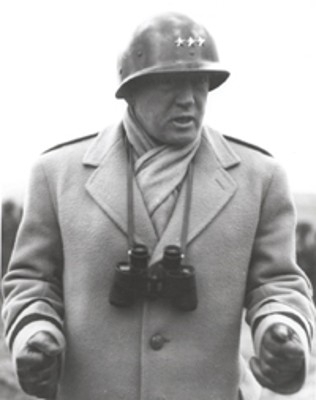 This big, burly man, who didn't give a damn about standards, would follow his inner voice and pray as he felt, with his words, and even more so with his guts, to ask for help to liberate Europe from the Nazi invasion.
What help?
Let's see!
It was December 1944.
General Patton, in a formidable lightning offensive, had just liberated France from Normandy to Lorraine. "Overwhelming feats, swift advances, victory everywhere." The Allied armies, east in the Ardennes, were ready to invade Germany.
But since September 1944, incessant rain had been falling and harassing the soldiers. The rain was the great concern, the permanent torment of the General Commander-in-Chief of the Third American Army. He was tired of seeing his soldiers fighting against mud and floods as much as against the Germans.
On 8 December, in Nancy, General Patton called the chaplain of his army and declared to him :
"Chaplain, this is General Patton; do you have a good prayer for weather? We must do something about those rains if we are to win the war."
The Chaplain mentioned that it usually was not a customary practice among men of his profession to pray for clear weather in order to kill fellow men.
The General retorted:
"Chaplain, are you teaching me theology or are you the Chaplain of the Third Army? I want a prayer."
The chaplain wrote a prayer on the spot and took it to Patton. Here it is:
"Almighty and most merciful Father, we humbly beseech Thee, of Thy great goodness, to restrain these immoderate rains with which we have had to contend. Grant us fair weather for Battle. Graciously hearken to us as soldiers who call upon Thee that, armed with Thy power, we may advance from victory to victory, and crush the oppression and wickedness of our enemies and establish Thy justice among men and nations. Amen"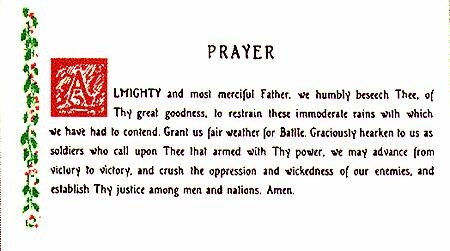 The General read the prayer and asked: "Have 250,000 copies printed and see to it that every man in the Third Army gets one." He then told the Chaplain:
- Sit down for a moment, I want to talk to you about this matter of prayer.
I am a strong believer in Prayer.
There are three ways that men get what they want; by planning, by working, and by praying.
Any great military operation takes careful planning, or thinking.
Then you must have well-trained troops to carry it out: that's working.
But between the plan and the operation there is always an unknown. That unknown spells defeat or victory, success or failure. It is the reaction of the actors to the ordeal when it actually comes.
Some people call that getting the breaks; I call it God.
God has His part, or margin in everything. That's where prayer comes in.
Up to now, in the Third Army, God has been very good to us. We have never retreated; we have suffered no defeats, no famine, no epidemics. This is because a lot of people back home are praying for us. We were lucky in Africa, in Sicily, and in Italy. Simply because people prayed.
But we have to pray for ourselves, too.
A good soldier is not made merely by making him think and work. There is something in every soldier that goes deeper than thinking or working. It's his "guts."
It is something that he has built in there: it is a world of truth and power that is higher than himself. Great living is not all output of thought and work. A man has to have intake as well. I don't know what you call it, but I call it Religion, Prayer, or God."
Patton continued:
We've got to get not only the chaplains but every man in the Third Army to pray. We must ask God to stop these rains. These rains are that margin that hold defeat or victory.
If we all pray, it will be like what Dr. Alexis Carrel said [who described prayer "as one of the most powerful forms of energy man can generate"], it will be like plugging in on a current whose source is in Heaven. I believe that prayer completes that circuit. It is power. (1)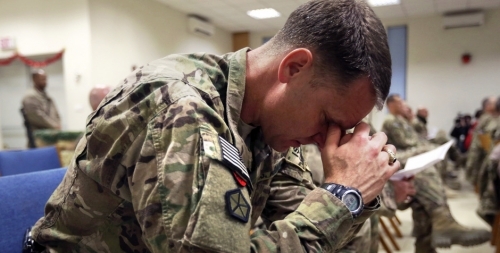 On 14 December the prayer was distributed to the troops.
Around 15 December 1944 General Patton woke up at 3 o'clock in the morning with a dream.
He perceived intensely that German troops were launching a secret offensive to seize the port of Antwerp and thus deprive the American troops of their supplies. The enemies were therefore preparing to break the Allied lines advancing in the Ardennes. General Eisenhower was completely unaware of the German plan, as were his intelligence services.
Patton, the clairvoyant, at 3 o'clock in the morning, dictated to his secretary all the steps to be taken for the counter-offensive. The operations to be carried out had just appeared to him in a dream. He ordered some of his troops to prepare to set off in an emergency.
The incessant rain had given way to snow and the snow fell in a thick curtain that blocked everything, everything was white, the ground, the air all around, and the sky above. No one could see anything, nor hear anything, nor move forward, everyone froze.
On 16 December, the secret German offensive of which Patton had just dreamed of took place. The Germans appeared unexpectedly, the surprise was total, they advanced "like a hot knife blade in a lump of butter". They were approaching victory.
Their objective was to take control of a strategic road junction of vital importance, which was in the small village of Bastogne in Belgium.
This road junction was defended by the 101st Airborne of the Third Army led by Patton: it was a division of the army, specially trained in airborne assault. It consisted of 11,000 men who blocked the advance of the German troops. This point of resistance was not to be broken.
But on 16 of December, 60,000 German soldiers surrounded the 11,000 American soldiers in Bastogne.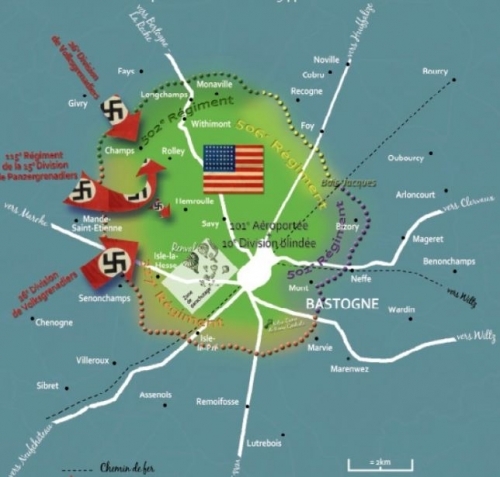 On 19 December, three days later, Eisenhower heard the news from the front and became aware of the danger. Very worried, he summoned his generals and asked Patton to send reinforcements to Bastogne. Patton promised to free Bastogne on Christmas Day, but the appalling weather conditions prevented any progress.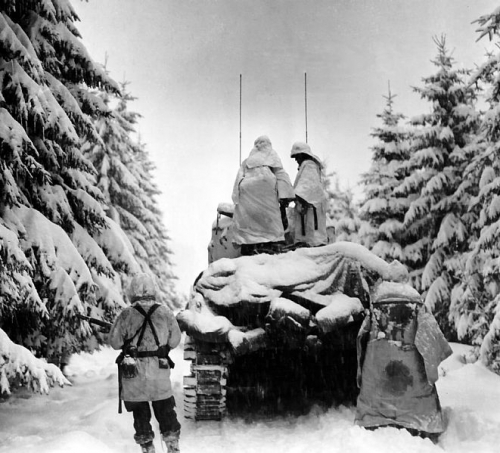 Meanwhile, the besieged, under the command of General Mc Auliffe, were defending themselves heroically and awaiting reinforcements. The dreadful weather made it impossible to carry out any air supply. The men were fighting in cruel conditions, they lacked everything, they had no winter clothes, no ammunition, no food, no medical means.
On 22 December, the German command ordered General Mc Auliffe to surrender.
Determined to continue the struggle, even without hope, Mc Auliffe responded with a vigorous and famous reply:
"Nuts!"
And for his part, the chief of the Third Army despaired of not being able to help him.
On 23 December, 50 km from Bastogne, Patton stopped in Luxembourg City. He entered the chapel of the Pescator Foundation, walked up to the crucifix above the altar, ...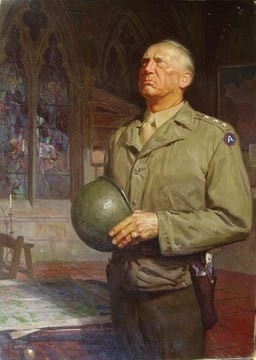 He took off his helmet with its 3 stars, knelt down and prayed. He prayed aloud to ask for the victory of his troops at Christmas. His words were taken down in shorthand by one of the officers of the General Staff.
"Sir, this is Patton speaking.
The past fourteen days have been straight hell. Rain, snow, more rain, more snow. I am beginning to wonder what's going on in your headquarters.
Whose side are You on anyway?
For three years my chaplains have been explaining that this is a religious war. This, they tell me, is the Crusades all over again, except that we're riding tanks instead of chargers. They insist we are here to annihilate the German Army and the godless Hitler so that religious freedom may return to Europe.
Up to now I have gone along with them, for You have given us Your unreserved cooperation. Clear skies and calm sea in Africa made the landings highly successful and helped us to eliminate Rommel. Sicily was comparatively easy and You supplied excellent weather for the armored dash across France, the greatest military victory that You have thus far allowed me.
You have often given me excellent guidance in difficult command situations and You have led the German units into traps that made their elimination fairly simple.
But now, you've changed horses in midstream. You seem to have given von Rundstedt every break in the book and frankly, he's been beating the hell out of us.
My army is neither trained nor equipped for winter warfare. And as You know this weather is more suitable for Eskimos than for southern cavalrymen.
But now, Sir, I can't help but feel that I have offended you in some way. That suddenly you have lost all sympathy for our cause. That You are throwing in with von Rundstedt and his paper-hanging God. (2)
You know without my telling You that our situation is desperate. Sure, I can tell my staff that everything is going according to plan, but there's no use in telling You that my 101st Airborne is holding out against tremendous od in Bastogne, and that this continual storm is making it impossible to supply them even from the air. I've sent Hugh Gaffey, one of my ablest generals, with his 4th Armored Division, north toward that all-important road center to relieve the encircled garrison and he's finding Your weather much more difficult than he is the Krauts.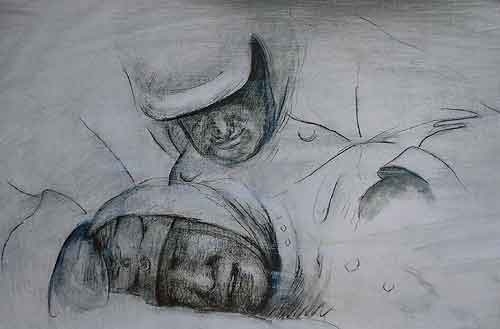 I don't like to complain unreasonably, but my soldiers from the Meuse to Echtemach are suffering the tortures of the damned. Today I visited several hospitals, all full of frostbite cases and the wounded are dying in the fields because they cannot be brought back for medical care.
But this isn't the worst of the situation. Lack of visibility, continued rains have completely grounded my air force.
My technique of battle calls for close-in-fighter support, and if my planes can't fly, how can I use them as aerial artillery?
Not only is this a deplorable situation, but, worse yet, my reconnaissance planes haven't been in the air for fourteen days, and I haven't the faintest idea of what's going on behind German lines.
Damn it, Sir, I can't fight a shadow. Without Your cooperation from a weather standpoint I am deprived of an accurate disposition of the German armies.
How in hell can I be intelligent in my attack?
All of this probably sounds unreasonable to You, but I have lost all patience with Your chaplains who insist that this is a typical Ardennes winter, and that I must have faith.
Faith and patience be damned! You have got to make up Your mind whose side You're on. You must come to my assistance, so that I may dispatch the entire German Army as a birthday present to Your prince of Peace.
Sir, I have never been an unreasonable man, I am not going to ask you for the impossible. I do not even insist on a miracle, for all I request is four days of clear weather.
Give me four clear days so that my planes can fly, so that my fighter-bombers can bomb and strafe, so that my reconnaissance may pick out targets for my magnificent artillery.
Give me four days of sunshine to dry this blasted mud,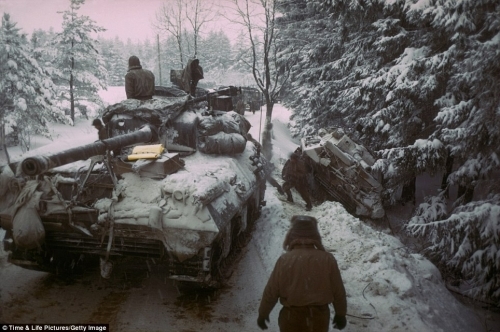 so that my tanks roll, so that ammunition and rations may be taken to my hungry ill-equipped infantry.
I need these four days to send von Rundstedt and his godless army to their Valhalla.
I am sick of the unnecessary butchery of American youth, and in exchange for four days of fighting weather, I will deliver You enough Krauts to keep Your bookkeepers months behind in their work." (3)
Patton bowed his head, waited for a moment and then finished with ...
"Amen."
And then?
A few hours later ...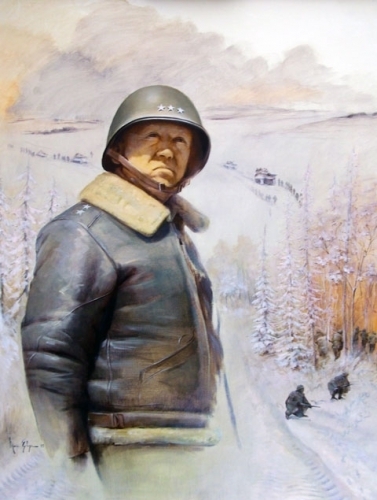 ... a sun spell appeared ...
Yes, the good weather was coming back! Beautiful weather, not only for 4 days, but for a whole week!
And on 25 December 1944, as Patton had announced, the troops were there, ready to attack.
Gigantic forces were in place: 600,000 American soldiers, 500,000 German soldiers, all equally brave, would face each other the following days in the Belgian-Luxemburgish Ardennes.
Patton's army advanced heroically as far as Bastogne, which was liberated on 26 December 1944.
It was the biggest, bloodiest and most heroic battle of the war in Europe.
80,000 American soldiers, 100,000 German soldiers sacrificed themselves at the end of 1944.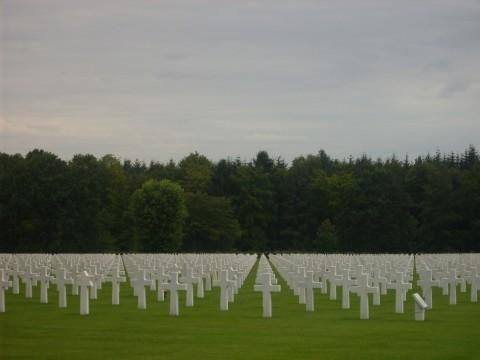 Tribute be paid to all these brave men.
Thank you to those American soldiers who, in this battle of the Ardennes, gave their lives for our freedom.
Tribute also to the German soldiers who served their country.
On the morning of December 27th, Patton walked into a small chapel and dropped to his knees and began to pray:
"Sir, this is Patton again and I beg to report complete progress. Sir, it seems to me that You have been much better informed about the situation than I was, because it was that awful weather which I cursed You for so much which made it possible for the German army to commit suicide. That, Sir, was a brilliant military move, and I bow humbly to Your supreme genius". (3)
Who was this man? What a wonderful connection he had with his God who dwelt in him!
So what happened?
The Germans had waited for the bad winter weather to arrive before launching their attack in mid-December. They were counting on the fog and permanent snowstorms to prevent American planes from supporting the troops on the ground.
But the bad weather had the effect of slowing down their troops as well. The narrow roads in the Ardennes and the relentless American resistance did the rest to frustrate their planning.
In the meantime, the German soldiers lost their strength and were exhausted. They also ran out of petrol reserves. The return of good weather and the arrival of American forces were fatal to them. The Nazis had thrown their last forces into the Battle of the Bulge, they could not recover and lost the war.
This is why Patton considered that the bad weather had led the German army to commit suicide. And already on December 27 he had foreseen the outcome of the war one month later.
On 1 January 1945, in the New Year's greetings, Patton thanked his soldiers with these words:
"Valiant soldiers, veterans, you have been hardened and tempered by fire and blood and have become pure steel".
A month later, on January 15 1945, the German armies withdrew, they lost the Battle of the Bulge.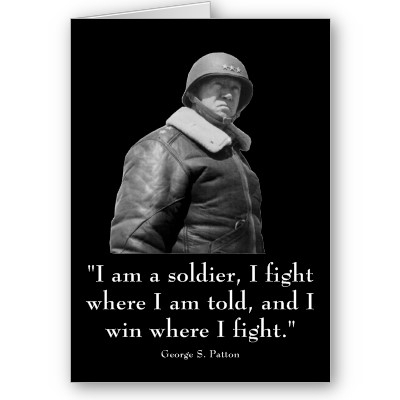 Conclusion
General Patton, with his men, fought to liberate France and Europe. He fought to honour the Prince of Peace. For this, he turned to the Eternal God of Armies, this god so well known to the Jews of the Old Testament, whose accents he found in his prayers.
He had to have something in his guts, which he called "Religion, Prayer or God. "
He knew how to animate, through prayer, the inner strength in his men that instills confidence, courage, resistance and heroism in the midst of trial and suffering.
And this god, it seems, listened to the prayers:
- those of 250,000 soldiers of the Third Army,
- those of other soldiers and families,
- the relentless and fierce prayers of this powerful general who spoke to God live, without politeness.
And it seems that God not only heard and listened, but also answered these prayers.
Once again we see that the inner and outer worlds speak to each other, correspond and "respond to each other in a dark and profound unity".
And finally I leave you with the striking commentary of an observer on these events:
"I find this prayer very powerful.
- Making 250,000 men pray together.
- An army blocked by a harsh winter, which the enemy had counted on.
- To have this revealing dream.
- And to pray to Heaven.
- To turn this snowfall into a hail of iron and fire on the enemy and change it into victory.
- I believe that since the ancient crossing of the Red Sea
by Moses and his people,
mankind has never known such a celestial event
to change its destiny." (4)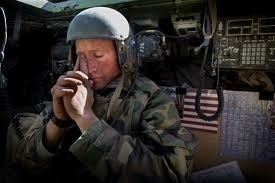 Dear friends, allow me to add a few personal lines.
I was born in 1944, just as Patton was crossing France victoriously and advancing towards Germany. When I think "American", I am seized with deep emotion, I think of those brave, heroic soldiers who came to fight in France, I think of their mother and father, their wife, their children, their family, all those who prayed for them. I think of those men who gave their blood, gave their lives, to liberate my country from the Nazis. Their sacrifice made it possible for me to live freely. All my life I will remain immensely grateful to the Americans, to the American soldiers and to General Patton, a general who prayed to God every day.
Christiane
Translated by Marianne
Notes
(1) The speech was taken from http://www.pattonhq.com/prayer.html
(2) Indeed, Hitler's job was to glue wallpaper, before going into politics.
(3) Patton's prayers were taken from http://gregsegroves.blogspot.com/2015/03/pattons-prayer-okay-god-whose-side-are.html
(4) For Christmas 2015 I have put on my blog this same prayer of Patton formulated at Christmas time on December 23 1944. Gilbert gave us the pleasure of reading his wonderful comparison in commentary.
Bibliography
You will find a lot of information on the internet.
http://gregsegroves.blogspot.fr/2015/03/pattons-prayer-okay-god-whose-side-are.html
http://www.historynet.com/battle-of-the-bulge
Illustrations
I would like to thank the artists and photographers whose works allowed me to illustrate my blog.
Patton praying in the chapel of the Pescator Foundation on 23 December 1944: http://historiasegundaguerramundial.com/
Tank passing a vehicle that slipped on the ice and fell into the ditch: http://peopleus.blogspot.com/
Dying soldiers in the snow, by French artist Marie Elise: http://ardenneweb.eu/
Patton after his prayer, when the sun comes to light up his face, painted by the French artist Marie Elise: http://ardenneweb.eu/
Soldier in prayer: http://inchristourhope.over-blog.com/la-prière-la-respiration-du-soldat-1/2
This study was published on the French blog on 30 November 2019:
http://christiane-riedel.blogspirit.com/archive/2019/11/30/un-drole-de-faiseur-de-temps-un-sacre-bonhomme-3144231.html