05/29/2012
In the preceding study I talked about Francis' premonitory dream, which warned her of breast cancer.
Right after putting this dream on my blog, I received an e. mail.
"Hi, Mrs. Riedel
Could we please set up a telephone appointment to interpret my dream?
Last night I dreamt that I had a brain tumor.
Awaiting your call, I thank you.
Patricia"
Gosh ! Was that a premonitory dream ?
It was not to be taken lightly. It was urgent to explore it over the phone to understand its meaning. Here is how we studied this worrisome image with the interview technique. Patricia, answering my questions, gave me her associations.
Interpretation
The dream being very short, I immediately went to the heart of the problem :
- Listen, Patricia, your dream could possibly be premonitory. If that should be the case, you must go for tests immediately.
However, we must not neglect the possibility that your dream is symbolic and so at first we must analyze it from this perspective. If we don't find a symbolic meaning, then we'll have to conclude that your dream is to be taken at face value and act accordingly.
After these explanations, I began my interview :
A tumor
Questions :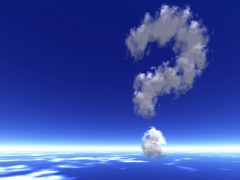 - Patricia, what is a tumor?
- A tumor is a cancer, a serious, deadly illness. Malevolent, destructive cells multiply, causing disturbances, which disrupt life. These cells gnaw at healthy tissues and spread everywhere.
- What is the brain?
-The brain, says Patricia, is the seat of mental activity and consciousness. It is the part of me, which allows me to reflect, reason and understand. I can analyze, make hypothesis and deductions.
The brain also allows me to express myself through words and movements.
The preceding words are the dreamer's own associations. Of course someone else could say something quite different about the brain. But I work exclusively with the dreamer's associations.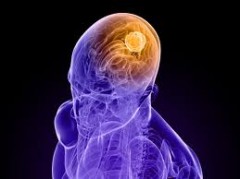 Establishing the link between the dream and the dreamer's daily life
Now, we had to put the dream into its context. So for this it was necessary to look at the events that occurred the day prior to the dream.
I went over the associations and, using the dreamer's own words, I asked :
- Patricia, try to look back on yesterday. What happened? What does it remind you of, if I mention malevolent cells that gnaw at you, wreak mayhem in your mental life and affect your capacity to reflect, to analyze ? What was going on in your head yesterday ?
- What was going on in my head yesterday ?
Oh ! Yesterday, everything went wrong, I had a miserable day. I really hated my husband ! Everything is turning out wrong. I can't put up with him anymore, our disagreements are amplifying, we have financial problems, he's always yelling.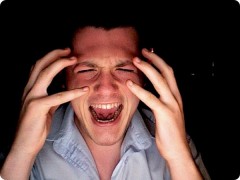 Also he doesn't even look at me and he hasn't made love to me in a long time. Mrs. Riedel, I've had enough, I can't take it any longer. And yesterday all that came to mind; I imagined a lot of stuff in my head.
I told myself I would be better off without him, that I should leave him. The idea of ending up alone is not that frightful.
What I would really like is to find a man who appreciates me, who tells me I'm beautiful and desires me.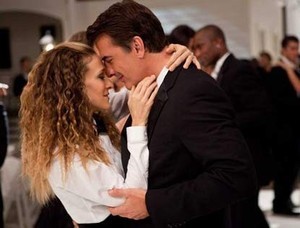 I would like a nice man, who is not a baby that you have to cater to, but one with whom mutual companionship is possible.
Oh ! You know, I'm so sorry to dump all this on you ! I'm embarrassed but sometimes I find my situation unbearable.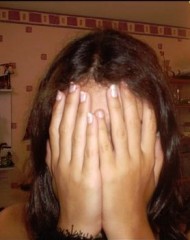 Quite moved I said :
- Patricia, don't worry, listening to all this is part of my job. You know, studying our own dreams leads us to reveal ourselves, and this can only be achieved by being authentic. So you are justified in expressing your feelings.
But let's get back to your dream.
Making verifications
Considering what you have just told me, how would your capacity to think and reflect (brain) be gnawed at by malevolent and harmful thoughts (cancer) ?
- Oh yes ! I see it clearly : the malevolent cells, that are threatening me, represent all this resentment, all those negative thoughts about my husband.
- So what do you think about the image of cancer ?
- Hum ! I'm invaded, devoured by destructive thoughts, which are undermining me, ruining my life.
- Yes. So your dream is a serious warning. You must understand that this proliferation of negative thoughts concerning your relationship with your husband is as dangerous as a real cancer.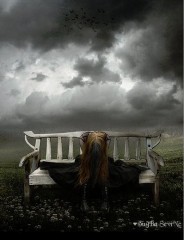 Putting the message into application
So, now we've understood the meaning of the dream, which is not premonitory.
But once the interpretation is done, that is not all, the work isn't over. It is wise to look for ways to put its message into application, to define concrete actions to correct and change the situation.
For our dreamer it means giving up a harmful attitude, choosing to replace it with a more constructive one.
From then on Patricia decided to accept life as it was presenting itself, welcoming the tiniest ordinary delights of everyday life as well as its difficulties.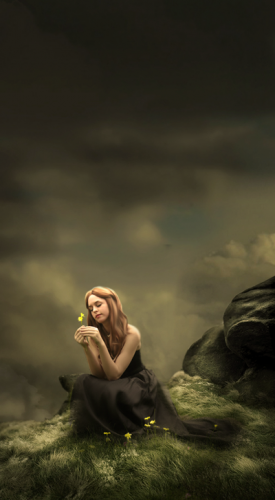 She admitted that her husband wouldn't behave according to her expectations ; so she decided to take him as he was without trying to change him.
Following this dream study we discover the surprising paradox of the dream path :
By accepting a loss, Patricia will gain.
By changing her state of mind, from now on she will undergo a transformation process, where she will learn endurance and perseverance.
By giving up her expectations, by accepting that her present life is not as she had thought or wished, she bears her ordeal.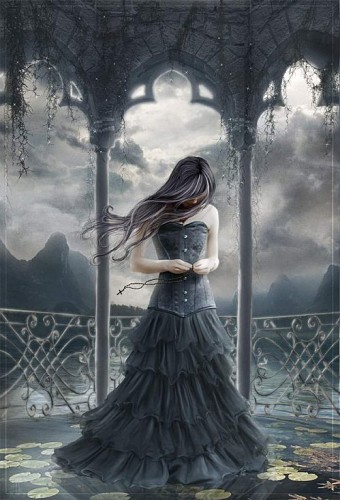 Yes ! Experiencing frustration will lead her to understand its value ; this inner experience will develop the gem of the soul : patience.
Didn't Christ say :
"In your patience you shall possess your soul" ? (1)
Her dreams will guide her through this transformation.
Conclusion
If we quickly had taken the dream at face value, we would have lost the precious life lesson given by the dream about patience.
Perhaps this dream has also a premonitory aspect : Couldn't such a lasting negative state of mind sooner or later produce a brain cancer ? Who knows ?
Patricia and I were thankful and appreciative for the dreams guiding and warning us of dangers night after night.
How vigilant! How benevolent! How wise!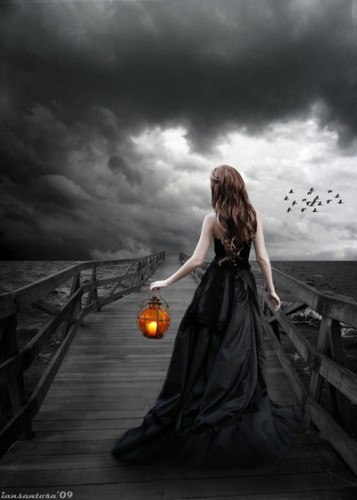 Important
Don't miss chapter 4 !
Next time we will compare the two preceding dreams : Francis' true premonitory dream indicating a breast cancer and Patricia's symbolic dream of a brain tumor, which only seems to be premonitory. We will define how to distinguish one from the other.
Illustrations
A question : lulumineuse.com
Brain cancer : faceauxcancers.fr
Yelling : topiro.com
Negative thoughts : « Waiting for the rain", ladykereska.over-blog.com
Endurance : ladykereska.over-blog.com
Ordeal : ladykerezska.over-blog.com
Patience : "Pick up my Dream" by Insantosa, ladykereska.over-blog.com

05/14/2012
Last time we saw a premonitory dream pointing to an impending danger.
Today, let's see a dream unveiling an event, which will happen many years later.
This is Margaret's dream, a student of mine who, twenty years ago, wanted to learn dream interpretation.
This dream came to her in 1992:
"I was part of a group going to a conference on health.
We were walking, I was in the back of the group and falling behind.
Then I found myself at the conference.
The subject was: "How to treat the illnesses of modern society and AIDS in particular.
I listened todifferent speakers and all of a sudden a voice spoke out and said:
" - In the relatively near future – and I know in my dream that that means in twenty to thirty years – in the relatively near future, the voice says, dreams will be a very good therapy to treat the ills of modern society."
The voice paused then added:
- It will even be an excellent therapy !
And then the voice strongly proclaimed :
- And it will be recognized."
Interpretation
I was part of a group going to a conference on health. We were walking.
The dream invites the dreamer to take an interest in the research concerning health.
I was in the back of the group and falling behind.
The image underlines the dreamer's lack of enthusiasm. She clearly shows resistances towards the dream world and has a very ambiguous attitude.
On the one hand, she seems to display open-mindedness in regards to the interior world by joining my workshops, but on the other hand she's very hesitant, even defiant. She scarcely accepts that dreams have a meaning and can guide her on her life path. She doesn't progress, she lags behind in this interior transformation work.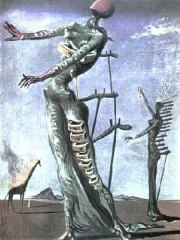 The subject of the conference was: how to treat the illnesses of modern society and AIDS in particular.
Why does the dream specifically mention AIDS?
Let's look at the symbolic meaning of this illness. Symbolically AIDS is an illness of the soul.
AIDS contamination mostly happens when one makes love without any protection.
On the symbolic level it means that we embrace points of view without distrust and discernment ; we enjoy adopting fleeting opinions, ideas, ideals, and trendy behaviors which pretend to grant immediate pleasure. But we do it without using our own judgment to properly evaluate the soundness of these trends.
Our world is intoxicated with all kinds of fads and theories.
All these currents pretend to know human beings, but actually they don', because they have no connection with the soul, the psyche, the symbol of which is the butterfly. In fact they don't understand the dreams, which are the soul's inner language.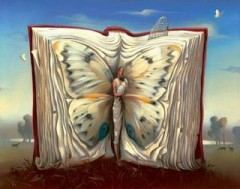 We adopt the prevailing norms and conceptions, which deviate us from our authenticity. We no longer listen to our own instinctive reactions and feelings which are the forces defending us. We no longer know what is appropriate for us or not, we live in dispersal, conflict and anguish. We loose our capacity to fend for ourselves, we loose our immune power and we contract AIDS symbolically.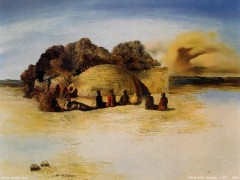 I listen to the different speakers and all of a sudden a voice speaks out and says:
"In the relatively near future – and I know in my dream that that means in twenty to thirty years –
Margaret received this dream in 1992. The dreamer knows in her dream that in a "relatively near future" means within twenty to thirty years which would be in : 2012, 2022. Twenty years ago the dream forecasted events, which are beginning to come true.
And here is what the dream predicted:
Dreams will be a very good therapy to treat the ills of modern society and particularly AIDS.
For many years our society has been witnessing the proliferation of therapies of all kinds, as one dream put it: "they sprout up like mushrooms after a rainfall".
This multitude of different and varied therapies attempts to alleviate the prevailing distress, which goes to prove that the soul is ill. Actually the soul issuffering a great deal. Could the external pollution correspond to the internal pollution ?
But soon alongside all these reigning therapies, we will really come to understand that dreams have a therapeutic value, that they are a very good therapy. The dream will then regain its true dimension and the place it had been granted throughout all civilizations, except ours.
That's why our society is sick.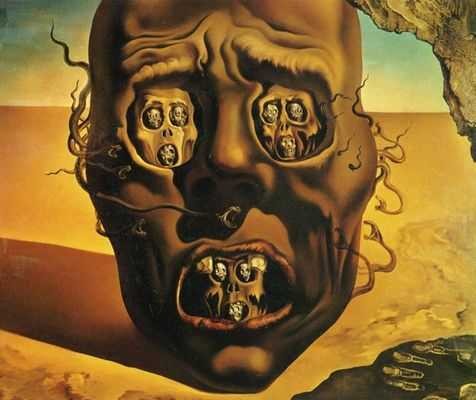 The voice paused then added:
Dream will even be an excellent therapy !
And then the voice strongly proclaimed:
And it will be recognized.
So this dream reveals a long term perspective spanning over twenty or thirty years.
Margaret received this impressive premonitory dream to encourage her to persevere in her search, without expecting to gain immediate benefits or any recognition from her entourage concerning her dream work.
This dream did not have much effect on the dreamer, she abandoned her dialogue with the unconscious.
But for me, this dream was a blessing. Countless times it came back to my mind to support me during difficult moments : when in my solitude I saw people doubting my work, smirking, mocking me or shying away, because what the dreams told them was so different from the prevailing points of view ; and most of all dreams don't necessarily say what we would like to hear.
And so this great dream, which always brought me such solace, announced changes, which some people are preparing and working on, and others are witnessing.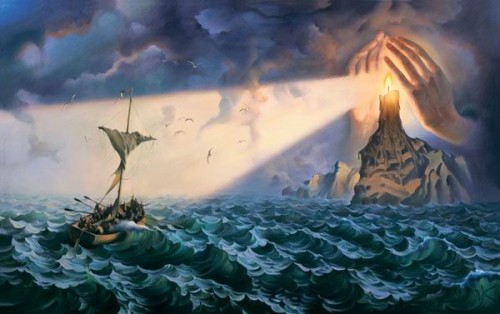 Illustrations
I thank the artists and photographers.
Giraffe on fire, by the Spanish artist Salvador Dali, 1904-1989
Butterfly book, contemporary Russian artist Vladimir Kush,
Paranoid face, Salvador Dali, surrealisme.skynetblogs.be
Oiled Pelican in Louisiana, Monday 7 2010, photo Charlie Riedel, cyberpress.ca
The face of war, by the Spanish artist Salvador Dali, oilpainting.com
Purple Horse at Chartres, by Vladimir Kush
To the Safe Haven, Russian artist Vladimir Kush
02/15/2012

Dear blog friends
Last year the International Association for the Study of Dreams, IASD chose to have its annual congress in Europe, in Rolduc's magnificent abbey in the Netherlands.
This year the International Congress will take place in Berkeley, California.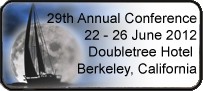 "Everyone dreams every single night. Now you have a special opportunity to understand and explore your dreams at the Sailing on the Sea of Dreams Conference, June 22-26, 2012.
This five day conference offers over 200 workshops, seminars and exhibits on all aspects of dreaming and is open to the public.
Sponsored by the International Association for the Study of Dreams, there are special programs with CE credits for psychotherapists and professionals, as well as many sessions of interest to the general public.
Hear and meet dozens of world-famous authors, researchers, and experts on dreams. Participate in the biggest dream conference ever held!
For information and registration, visit ASDREAMS.ORG."
The dreams Conference takes place in the splendid Double Tree Hotel in Berkeley, a wonderful setting.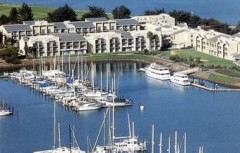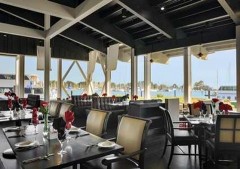 I hope you will have the opportunity to attend the Conference. I wish I could, but because it is so far, I will forego this special time with the other IASD members I was so pleased to meet last year in Rolduc.
Nevertheless my activities regarding dreams continue.
Now here's some news about my activities in France :
In January I led a seminar on "Meaning of Christian symbols in dreams".
In February I was in the North of France in Amiens, well known for its marvellous cathedral, miraculously saved during world war 2.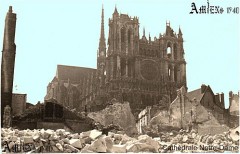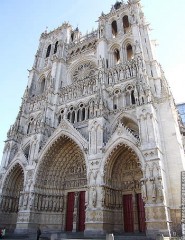 There I held a conference : "Dreams and the Bible". The Bible actually relates nearly 250 dreams, through which the Divine directly speaks to human.
Over the week-end I held a dream interpretation initiation seminar. For the first time the attendees discovered the wisdom of this inner voice speaking to them during the night. They were so delighted at understanding how to decipher dreams, that some of them immediately signed up for an other seminar at the end of March.
During two five day intensive dream interpretation seminars, I will teach dream interpretation next summer : students will experience practical training on each other's dreams. That 's why I work only with small groups.
From July 23rd –27th, the first will take place in the noble old city St Germain en Laye, famous for its castle.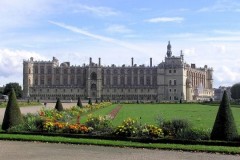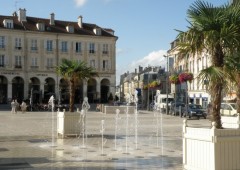 The other, 6- 11 August, will be held in Provence, Southern France in the antique small village Antonaves.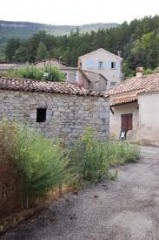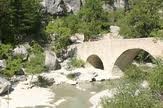 Would it be that the interest in dreams and dreaming is awakening in France ?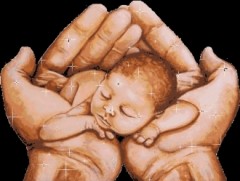 Illustration
Cathedral in Amiens, ( 1220-1288), recognized by UNESCO as World heritage of Humanity Site.
01/24/2012
Once again, a coffee !
Last time I explained how to interpret an object in a dream. In that example the object in question was a coffee.
Today's dream concerns the same symbol : a coffee.
Easy ! We've just covered that ! True, but surprise… surprise…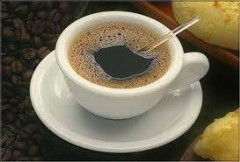 Loretta, who lives on a farm pays great attention to her inner life, she aspires to dwell in the light and love of Christ who appeared in her dreams several times.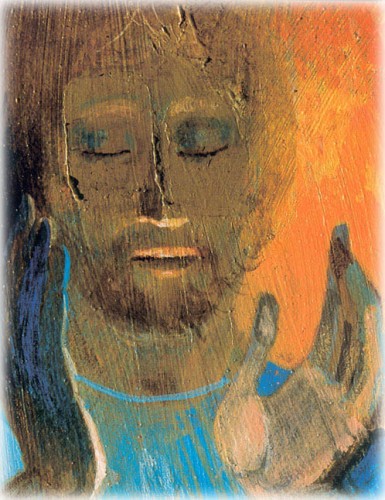 She strives to remain sinless in a life of purity and perfection.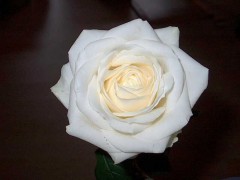 Recently she received this dream :
Dream
I am at my mother's place, sitting in the kitchen. The priest, father Francisco enters, I go off to the bathroom. When I come back he's no longer there.
I ask my mother :
- Did you offer him a coffee ?
- Sorry, I didn't think about it.
Such an ordinary and simple scenario !
Let's go on to the interpretation. Proceeding with the interview technique, I ask the usual questions.
Questions 1 and 2 : ( Refer back to lesson 2 : Who is the other ? 04/ 04/ 2011)
What can you tell us about your mother, what is your mother like?
Loretta says :
- My mother died several years ago, she was a devoted woman who did everything for her seven children. She was always very busy taking care of her house and family. She didn't manifest her affection with cuddles but she puts her heart into everything she did.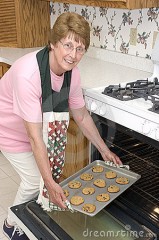 I recapitulate :
Loretta's mother is devoted to her family but doesn't express her affection with cuddles.
I establish the link with everyday life
I ask Loretta : inside or outside yourself, who does it remind you of : someone who is devoted to her family, who doesn't express her affection with cuddles?
The dreamer ponders, answers the question and finds the meaning of this symbol "mother".
Loretta immediately recognises herself.
So Loretta's mother symbolizes Loretta's maternal aspect, putting her heart into her family's care.
But to be sure of it, we must check that Loretta can apply to herself all that she has said about her mother.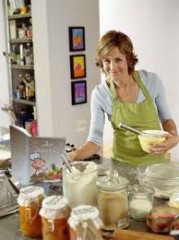 Proceeding with the verifications
Loretta recognizes that such is the case. Each detail of the description suits her as well as her mother.
We now continue examining the next symbol : the kitchen
Questions 1 and 2
What is a kitchen and what is it like ?
In a home, the kitchen is the place "par excellence" where the mother prepares good meals for the family. A kitchen is a warm, welcoming place where people are happy to get together.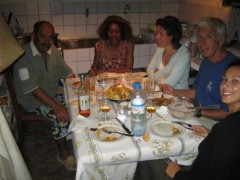 This is the setting in which
The priest, father Francesco arrives
Question 1
- What is a priest ?
Answer :
- He's a man who helps you with your spiritual life, he guides you towards God.
Question 2
- And father Francisco, what is he like ?
Answer :
- Hesimply lives the day to day life ; he knows me well. He's always telling me that I strain myself uselessly, that I feel guilty about too many things and that my efforts to attain perfection don't necessarily lead me to God. He says that I'm fine the way I am, that God loves me the way I am, including my imperfections.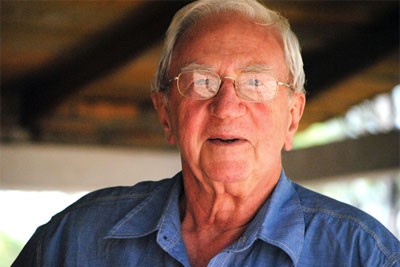 Making the recapitulation and establishing the link, I ask :
- Loretta, inside or outside yourself, someone who helps you in your spiritual life, who knows you well, who tells you that God loves you as you are, who does that remind you of ?
Loretta ponders, answers the question and finds the meaning of the symbol "priest" :
- On the exterior it's father Francesco of course… inside, who would it be, in me ?
And within me,… someone who knows me ?… who tells me God loves me as I am…? Oh !… Could it be God ?
God. That is the meaning that Loretta proposes for the image of the priest :
Proceeding with the verifications
OK ! that's a first interpretation hypothesis. Let's do the verifications.
I go over all the associations given by the dreamer and ask :
- For you, is God present in your everyday life ?
- Yes, he's always present in my thoughts and my heart.
- Does he tell you that you worry too much ?
- Well sometimes, as father Francesco says, I have the feeling that complicating things doesn't necessarily please God.
- Does God consider that you are fine as you are ?
Loretta exclaims :
- Who loves me as I am ? Only God !
We've proceeded with the verifications and can conclude that father Francesco is indeed a symbol of the divine Father.
It's not the first time we've seen the divine appearing under a human form. There are examples of that on my French blog :
- in the dream of an American business man in 1926, God was as a business man ( see 30 / 03 / 2008).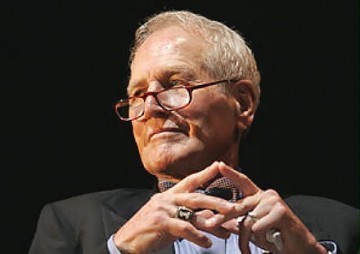 - in lawyer Ruben's dream in 1990, God was a Jewish Capitalist (see 06/ 09/ 2009)
- in Michelle's dream, God appeared as a man offering her a flower.
To refer to these dreams, you can consult the index of my French blog under the word "Dieu" (God).
Let's get back to our study :
The priest arrives in the kitchen
This is the very place where the divine father chooses to present himself.
It is important to consider whom he is visiting.
He's visiting the devoted mother, Loretta in her kitchen, who is expressing her love through repetitive humble daily tasks such as peeling potatoes, baking a cake, doing the dishes … again and again every single day.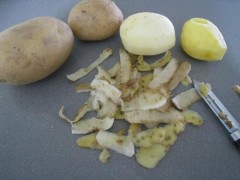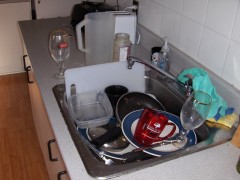 And so the divine comes to visit those who serve others with devotion in their humble everyday life. For the dreams, it's at this level that one can have and feel the experience of His presence.
I go off to the bathroom.
When father Francesco appears, Loretta, instead of welcoming him, leaves him and goes to the bathroom. She is single minded : she wants to be impeccable, her only thought is to purify herself to be worthy of meeting God.
I ask our dreamer :
- Loretta, what does this behavior remind you of ?
Loretta explains that she performs several rituals to purify herself, in preparation for contact with the divine.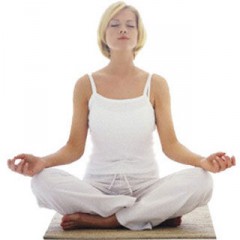 She surrounds herself with candles, practices visualisations while concentrating on the image of Virgin Mary or Christ.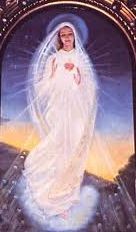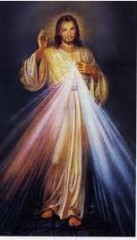 When I come back father Francesco is no longer there
But when she comes back to present herself to God…HE IS GONE, his presence is no longer perceptible.
This part of the dream clearly indicates that the divine comes to see her without waiting for her to be pure ; as the priest told her : "God loves you as you are, with your impurities."
Then Loretta asks her mother
- Did you offer him a coffee ?
- Sorry I didn't think about it.
A coffee
Now let's see
Question 1 :
- What is a coffee ?
- It's something you offer someone as a greeting, says Loretta.
Question 2
- And what's it like ?
- It's good, it's hot and makes you feel good.
- Is there anything else ?
- No, I can't think of anything else.
How to recapitulate ? What can I say, having so few indications ?
As for myself, my mind is still full of the previous study "Lesson 3" I just completed on my blog pertaining to the image of coffee, where I demonstrated that it symbolized dream interpretation.
So now what do I do with that ? Why would dream interpretation come up in the dream of this woman, who is asking for an interpretation for the first time.
I feel uneasy. It's so pleasant when you already know. Now I'm searching, I'm on the phone, I must find quickly.
I go over my notes, I analyse the scenario and search for it's logical deductions :
Loretta said that a coffee is a way of greeting someone, that it's hot and good. But what happens in the dream ? Neither Loretta nor her mother offered the priest a coffee. Neither of them greeted the divine who presented himself in the kitchen, in the ordinary daily life.
Yes, that is the meaning of the image.
The dreamer said it at the offset : a coffee is a way of greeting someone. It would be useless to press on with the interview technique to find out more.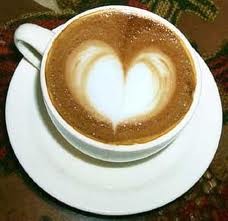 Now let me make a commentary
This little dream contains two lessons .
One lesson concerning dream interpretation :
Refrain from applying a pre-established meaning on an image.
Remenber : always start afresh with an empty mind, to avoid searching in a wrong direction.
Refrain from pressing on with the interview to get additional multiple associations. The first ones are generally sufficient. Overdoing it only leads to confusion.
This little dream also holds a great spiritual lesson
The fashionable purification rituals, the elevated aspirations to reach a higher level of consciousness in contact with the divine or "ascended" Masters, the efforts, the spiritualization exercises proposed by numerous pathways don't always lead to a contact with the divine as shown in this dream.
Well no, it's very simple, too simple, the divine accompanies us in our ordinary everyday life, and that is precisely the one we try to escape from, in our wish to have access to celestial spheres.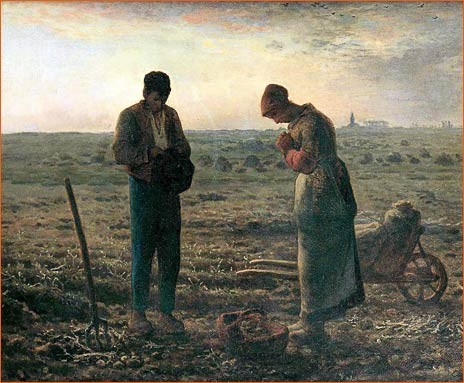 However when the divine manifests itself within our everyday life, without anything sensational, without miracles or synchronicities, without vibrations in the body or Kundalini experiences, without images or ecstasies, we forget to greet Him. When he comes telling us :
- I love you, as you are in your darkness and your little everyday life, with your errors, your insufficiencies, your weaknesses, that's where I'm with you…
…we don't even offer him a coffee.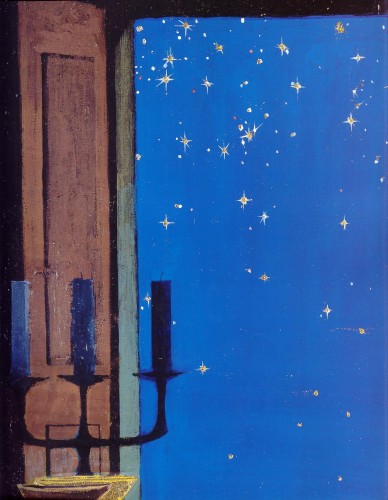 Illustrations
I thank the artists whose paintings and photos allow me to illustrate my blog :
Christ, painted in the church St Hugues en Chartreuse by the French contemporary painter Arcabas.
Purity : artbible.net
Mother in the kitchen : fr.dreamstime.com
In the kitchen : tribugourmande.com
Priest : Father Louis Blondel, assassinated this year in South Africa : archives.fr.novopress.info
Padre Tortilla, Honduras priest : nospetitsfreresetsoeurs.org
Paul Newman
Peeling potatoes : supertoinette.com
Dishes : vieuxdeux.blogspot.com
Candle : everyoneweb.com
Meditation : espaceducalme.canalblog.com
Virgin Mary : rayonaurore.jpg
Mercyful Christ : christroi.overblog.com
Angelus or evening prayer by the French painter Millet, 1857-1859.
Gone : painted in the church St Hugues en Chartreuse by the French contemporary painter Arcabas.
11/26/2011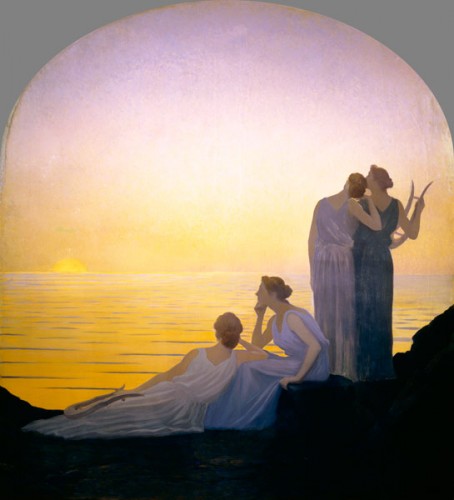 Last time we saw how Sylvia is intrigued by her dreams. They know everything of her life, the past, the future and they protect her night after night against the dangers of the life.
So she finally asks her dreams : What are dreams ? Here is the dream she got :
Dream
Driving my car, I arrive in front of a church. Mathilda is there waiting for me out front below the stairs. I step out of the car, she comes towards me with an outreaching hand and having got hold of mine, she takes me into the church.
Interpretation
Driving my car, I arrive
Sylvia has a car, which indicates that she has a fast and comfortable way of going forward in life.
We should note that a car rides on roads built for this purpose, that indicates that the dreamer easily goes forward in life on pre-established pathways same as everyone else. She is not part of those who advance slowly on foot, searching for their own way, surmounting the obstacles of the individual path.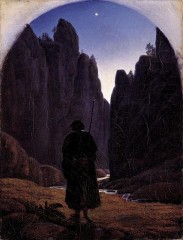 I arrive in front of a church
This young woman is not particularly interested in spirituality. She has vaguely heard about Christ, the crucifixion, mass, communion and the Holy Spirit. For her the church is a building that was erected to greet the divine, to allow everyone to listen within where one can meet Him .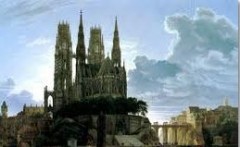 But in her everyday life Sylvia doesn't go to church, so the church of her dream does not speak about the external church, but about an interior place.
So what does this mean in regards to the question asked : what are dreams?
Dreams are her interior church where she can meet the divinity and commune with It.
That's all ! …
She got an immediate, clear, simple and direct answer.
But for the time, Sylvia has not yet entered this sacred place. She just arrives in front of this opportunity.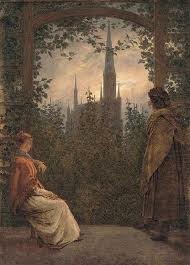 Mathilda is waiting for me below the stairs
Mathilda is her dream interpreter. She is aware of this dimension and is waiting for the dreamer to let her discover the interior reality.
I get out of my car
However, before being introduced, initiated, Sylvia must get out of her car, give up her habit of following pre-established ways to go forward.
How that ? She must set her two feet BELOW, DOWN on the ground, be more humble, walk by her own means to meet the dream interpreter.
Only with this humility she will be able to go UPstairs into the sacred place.
Mathilda comes towards me with an outreaching hand
Here the dream insists, it presents to the dreamer the interpreter who offers her help and support. It emphasizes that it is with her, thanks to her that Sylvia will be able to enter the dream path.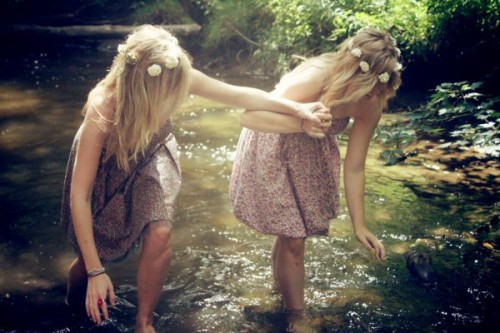 Having got hold of my hand she takes me into the church.
Mathilda, the interpreter then brings the young woman into her inner church, into her dreamworld within which the divine resides.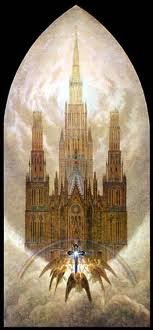 Conclusion
So, Sylvia had asked the incubation question : What are dreams?
Her dream answered:
Dreams are the interior church where the sacred encounter between human and divine unfolds. That's why dreams are all-knowing, that's why they are so wise and clairvoyant.
Comment
Surprising? Perhaps.
Really?
Not really, for what have all the old societies preceding us on earth said ? Didn't they all declare that the dream is the natural channel through which the human soul meets the divine?
Everywhere one finds the widespread affirmation that dreams give access to another level of consciousness, which surpasses the conscious and grants knowledge that it would not have access to on its own.
Scientifically today we call this other level of consciousness the unconscious.
It is a question of vocabulary of course but we must know how others understand that word. Cultures who differ from ours consider that the unconscious, this other level of consciousness to which dreams give access to, is that of divine forces. That's how they name it.
In preceding texts I have shown you that in Antiquity, for all, whether they be Egyptians, Greeks, Romans, Jews, or Africans the divine spoke through dreams, whether he was called Yahweh, God or Aesculapius, Jupiter… And I didn't speak yet of the Indians of the Americas and of others throughout the world. For them the unconscious is the expression of the divine dimension.
Sylvia's dream says the same thing: the dream is the moment of encounter with an interior force, which proves a wisdom beyond our understanding.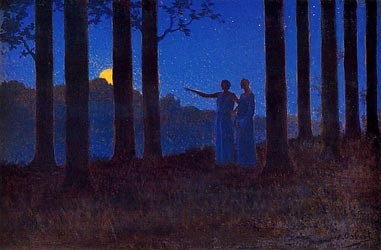 What can the rational say? Could scientific reason be brought to recognize that as far as dreams are concerned it finds itself faced with a dimension with its own laws the rational does not know about, and which extends beyond its competency?
Could reason accept that rational means have attained their limits regarding the unconscious? Then, logically and rigorously reason would declare that it can't say anything except that it finds itself facing a hyper-rational dimension.
That would be honest !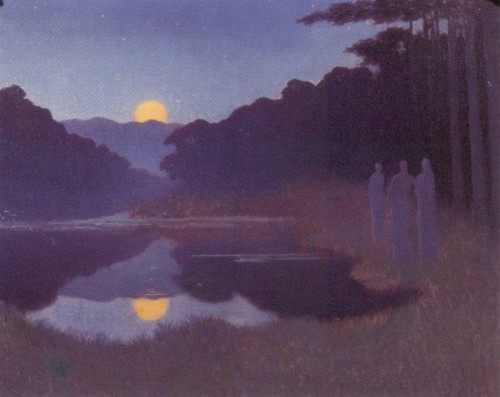 Illustrations
I thank the artists for their illustrations listed in order of their presentation :
Evening at Antiquity, 1908, by the French painter Alphonse Osbert, 1857-1939.
Pilgrim in a Rocky Valley, 1820, by the German artist Carl Gustav Carus
The Cathedral, by the German artist Caspar David Friedrich (1774-1840)
The Cathedral, by the German artist Friedrich Schinkel (1781-1841)
Hand in hand : liloo.citations.skyrock.com
Mystery of the Nignt, by Alphone Osbert
Moonlight, 1896, by the French artist Alphonse Osbert, 1857-1939
11/14/2011
Sylvia is lucky, her friend Mathilda is one of the dream interpreters I have trained and so Sylvia often asks her to analyze her dreams…, and following this she has been encountering some intriguing experiences.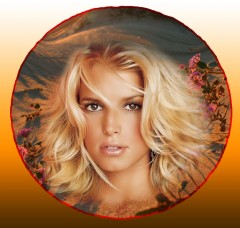 For example how could Mathilda know that Sylvia had forgotten to take her pill ? Mathilda didn't know but the dream she interpreted knew it and came immediately to warn the dreamer of her omission.
Did Mathilda know the future when, following the interpretation of a dream, she suggested that her friend leave her boyfriend Bernard before he leaves her ?
Mathilda does see into the future, but the dream does :
Sylvia dreams :
I see a beautiful blond woman in a swimming pool. I suddenly see her being "take from behind" by her boyfriend and she leaves immediately after.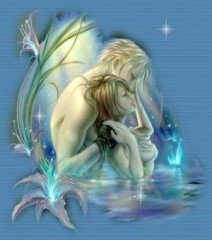 Interpretation
Mathilda warns Sylvia, represented by the beautiful blond, that Bernard is going to play behind her back, probably dump her for another woman. Sylvia should leave him immediately before he leaves her.
And what happens ?
Sylvia doesn't listen to her dream, she is in love and wants to stay with her boyfriend. Two weeks later she faces the humiliating fact that he has preferred to share his bed with another girl.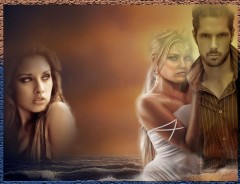 Now let's again consider the "benevolence" of dreams
Sylvia is unhappy at work and wants to quit her job. She would like to have a dream to guide her, but she knows that Mathilda is absent at that time, so she could not interpret it. Sylvia wonders what she should do. So she asks for a short, clear, simple dream that she can understand on her own.
Her question is :
- Tomorrow, should I tell my boss that I want to quit ?
Her dream
All night Sylvia hears the famous German singer Lafee singing her disco song "Shut up, shut up, shut up!"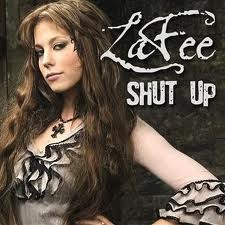 Interpretation
So she understands that she shouldn't say anything !
So, the next day Sylvia doesn't say anything. In the afternoon her boss tells her that the company is closing shop for two weeks and the employees will be on put on paid vacation. Having not been with the company long enough to warrant this, Sylvia is nonetheless given a paid vacation like all the others. If she had quit, she would not have gotten this "bonus". She quit after her vacation.
How about that ! How can dreams know?
It's " too much" how they know past and future ! It's really amazing how they prove to be right !
Sylvia then decides to ask her dreams a question :
- What are dreams?
We will see the answer next time.
Meanwhile do you remember Nathalie's incubation (Chapter 2; 02/16/ 2011) : She made the same inquiry as Sylvia. She was so astonished by her dreams that she asked them several questions one night.
- My dreams, who are you ?
- Is it God answering in dreams ?
- And even does God exist ?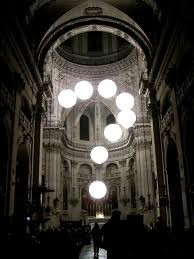 Illustrations
I thank the artists for their illustrations listed in order of their presentation :
Blond woman : sosuneterrienneendetresse.centerblog.net
Greatly vexed : sosuneterrienneendetresse.centerblog.net
? : lunettesrouge.blog.lemonde.fr
10/26/2011
Several months ago we started studying dream incubation. We have examined several aspects of the topic. Now it is time to take the following question into consideration and see what the dream answers :
Does the unconscious always answer an incubation question ?
With the latest dreams we have seen that the unconscious doesn't like to be asked questions repetitively. It accepts giving the desired information of course, but it will only give what it deems necessary. When we look at the dreams, it appears that the unconscious doesn't always have the same point of view as us, concerning what we need to know or not.
Today, you will read an answer to an incubation dream, which is much harsher than the preceding one, because the dreamer is trying to exploit the unconscious to his own advantage.
The dreamer Arnaud is very worried because his wife is sick. However, what poses a problem to him is not the state of her health but rather he worries that she may no longer be able to work, and that means a loss of income. He calculates the family finances.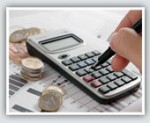 What he's truly concerned about is not how he can help his wife or what kinds of treatments could cure her, but rather whether she will get money from a "paid" sick leave. He asks his dream to answer this question.
Dream: The Sovereign Cat.
I go into a "café". There is a black cat in the middle of the hallway. I raise my leg to go over it. The cat lifts its head, glares at me…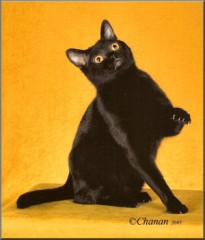 I am paralyzed, I can't put my leg over across the cat, I can't go into the café.
Interpretation
The "café".
It is the place where one can drink a black tonic beverage which wakes you up : coffee.
The beverage
Last time we have seen a frequent meaning of coffee :
The beans of the coffee tree are the fruits representing the dream symbols which appear naturally. The dreamer collects them and the dream interpreter acts as a coffee bean roaster, a blender, a coffee machine, transforming the beans to obtain an universally appreciated drink : this black liquid which awakens is the interpreted dream.
The setting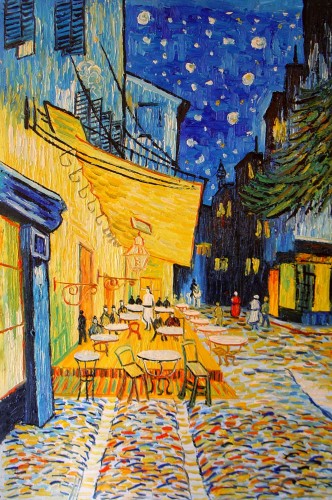 The "café" represents the place, the moment when the dreamer makes contact with the unconscious through dream interpretation.
For Arnaud, in view of the question he asked, the setting, this "café" represents the place where he can geta dream interpreted and the desired information.
So Arnaud would like to get an answer thanks to an interpreted dream.
The black cat in the hallway.
The cat is a domesticated animal, which nonetheless retains a wild side.It lives in the home environment but can't be trained. It is ferociously independent. It has the very rare ability to see in the dark, in the night.
It's black color, like that of the coffee, expresses its link with the unconscious.
So what is the cat ?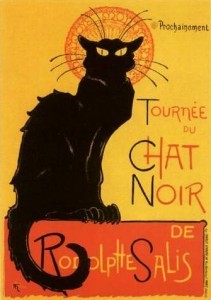 This black cat is the way the unconscious chooses to present itself to the dreamer. When Arnaud goes into the "café" to get his dream interpreted and to know if his wife will receive a pension, first he comes across the cat, this natural instinct, the unconscious, which sees in the night and can never be trained.
This cat occupies the middle of the passageway, as if it were the master of the place, as if it were guarding its entrance.
I raise my leg to go over it.
Our friend wants to go in. He doesn't pay any attention to the cat, he could acknowledge it :
- Oh ! Hello cat !
So he could write a letter and say :
- Dear dreams !
He could even bend down, pat the cat and say.
- Wow, you're so beautiful! Could you let me go by ?
Would you please help me to see clearly our present financial situation ? Your information would allow us to plan ahead. Will my wife get a workman's compensation ? Thank you very much for answering.
But no, Arnaud ignores the cat and wants to step over him. He wants to get his dream and the information without any consideration for the unconscious, as if Arnaud were master of the cat-unconscious.
The cat lifts its head and glares at me.
The cat/unconscious is indignant at this lack of consideration. Its anger is expressed by the fury of his glare. Lightning shoots from of its eyes.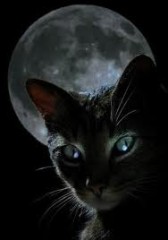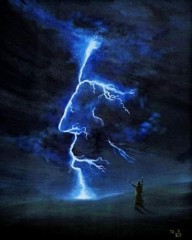 Lightning is the attribute of Zeus, the king of gods, it is also that of Yahweh, the God of Jews, also called the god of ire. Lightning bolts are the manifestation of the divine wrath.
So, it's as if the cat were saying: who is this boor who intends to go over me and acts as though I didn't exist? This guy is ill-mannered.
I can't cross over the cat
The anger of the cat paralyzes the dreamer. He won't be able to enter the "café": the incubation process won't work, he won't get the dream that would give him the information he wants.
Comment
This little dream is highly significant. It underlines a recurrent trait in our cultures today : I mean a lack of attention toward the unconscious and ignorance regarding the interior world at large. All the rituals designed to approach this dimension have been neglected, forgotten. We act as boors and consider ourselves as masters of the domain ! The unconscious finding us very casual, becomes contemptuous and reacts vigorously !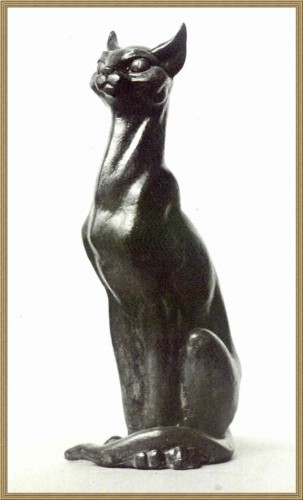 The analysis of this little dream shows us that the unconscious manifests itself as an autonomous reality which is not under our power.
It is an independent, sovereign function.
The unconscious is willing to cooperate, to help but we fall prey to a big illusion, if we think we can exploit or abuse it. The unconscious cannot be manipulated and will never be at our ego's service.
Moreover the last image shows clearly that the unconscious paralyzes the one who tries to exploit it for personal material gain.
Conclusion
You might have noticed that the image of the cat in Arnaud's dream doesn't have the same signification as the cat in Irina's dream posted earlier. The meaning of an image changes according to the dreamer and the circumstances.
In Irina's dream the cat symbolized a man in the outer world.
Here, in Arnaud's dream the cat manifests the same mysterious, independent, sovereign dynamism, that the Egyptians adored in cats, in the cat-goddess Bastet.
Truly Arnaud's cat appears much more powerful than the humans. The cat dominates, it possesses a divine quality.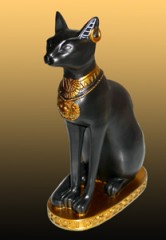 So, you can see in this contemporary dream the permanence of representations and conceptions which were found in vestiges of the past, some dating as far back as 5000 years old. Carl Gustav Jung called these images "archetypes". These are not created voluntarily by human minds, they appear by themselves as images in dreams, and represent powerful dynamisms. Our ancestors considered them as the manifestations of divine forces on the earth.
Could this dream invite us to understand that the unconscious is divine ?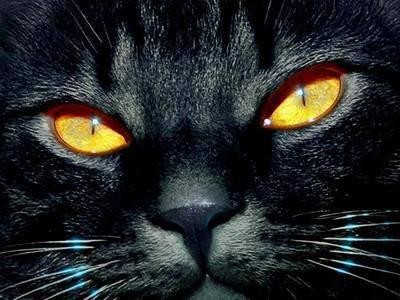 Illustrations
I thank the artists for their illustrations listed in order of their presentation :
Calculations : capifrance.fr
Le café du Forum, by the French artiste Vincent van Gogh,19th century.
Black cat : caneton.fr
Egyptian cat : chaosexmachine.info.fr
09/30/2011
COFFEE AND COFFEE BEANS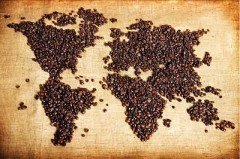 Before we continue with the next chapter on dream incubation, I think it is time to transmit another lesson to help you interpret your own dreams. Today we will see how to interpret an object.
A particular frame of mind
As I have already mentioned (April 14th 2011), before starting, you must put yourself in a certain frame of mind :
You must put aside all previous knowledge and all pre-conceived ideas. The use of symbols' esoteric dictionaries, and other related compilations are to be banned, as well as tarot cards and such.
You must remember that YOU WILL FIND BY YOURSELF, with a little research, reflection and patience.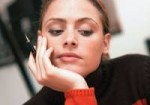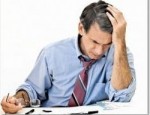 You must express the ideas that come to mind. You will learn to keep the pertinent ones and drop the others.
Example
Here is a fairly common image that I will decipher by going through the famous interview technique's 5 steps.
Here is Sabina, she studies her dreams. The day before she has just worked hard to interpret one of them and at night she dreams :
I drink a coffee, it's very good.
Now, pretend that you are Sabina and here is how you are going to proceed to analyze the image of the object "coffee":
1- First step
Question #1: WHAT IS IT ?
You ask the question : What is a coffee?
Your answer as Sabina : it is a drink obtained from coffee beans.
You can't find the meaning of the drink without understanding the meaning of its basic ingredient. So you find yourself at the outset of an exciting investigation and ask question #1 again.
Question #1: What are coffee beans?
Answer: they are beans growing on coffee trees, which have been roasted.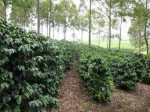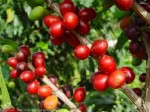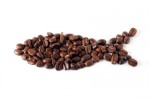 2- Second step
Question#2: HOW IS IT ?
How are coffee beans?
Answer : they're small and hard. You can't use them as is. It doesn't taste good. They have to be put through a whole process of transformation before you can get a coffee from them.
Advice : gather only a few answers, that is usually sufficient.
3- Third step
RECAPITULATE
Go over the associations given in step 1 and 2 and choose the most abstract ones :
" coffee beans cannot be used as is, they must first go through a process of transformation.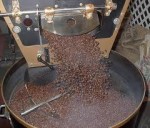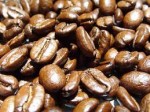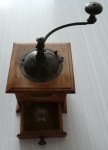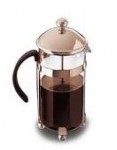 4- Fourth step
ESTABLISHING THE LINK WITH THE EVERYDAY LIFE
You are going to look for what the meaning of the coffee beans corresponds to in your everyday life.
For this:
- You repeat the recapitulation sentence,
- And you add the essential question which will always be the same :
" In relation to yesterday, when I put so much effort looking for the meaning of my dream, what does it remind me of, either inside or outside myself, something that cannot be used as is but must first go through a process of transformation ?"
At this point you search, you reflect on your own, you pick at your brain :

To help with your concentration you repeat the question to yourself :
- Something that can't be used as is…
- which must first go through a process of transformation…
- at this time in my life, when I've just been working to try and interpret my dream…
- what is that ?
...on the inside ?
...or on the outside ?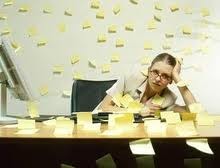 - …Outside myself? I can't see…
- …Or inside myself, …when I interpret my dream?...What goes through a transformation process ?...
…Ah ! Those darn coffee beans wouldn't they represent the symbols in dreams ?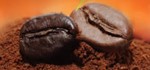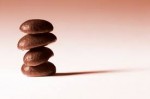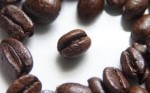 5- Fifth step
MAKING VERIFICATIONS
Let's see if coffee beans can represent dream symbols.
To do this, you have to verify that everything you have said about coffee beans can also be said about symbols.
So you must proceed meticulously and go over all the associations one after the other to check if they also adequately fit to the dream symbols.
You said :
Coffee beans are small and hard.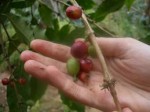 You can't use them as is, it's not good. They must be put through a process of transformation.
You verify by asking and answering :
- Is a symbol small?
-Yes in a whole dream, it is a small element.
- Is it hard?
- Yes ! It's hard to work on.
- Can they be consumed as is?
- Oh no ! They're not consumable, you can't do anything with them.
- And for you, what is the meaning of this whole process of transformation to make them consumable?
- Well, it's all the work I put into the dream yesterday ! All the interpretation work, which allowed me to transform an incomprehensible symbol into something I can assimilate !
Meaning of the symbol "coffee beans"
Here in this dream the coffee beans are symbolizing the dream symbols themselves.
Thanks to her work, Sabina has put them through a process of transformation which made them comprehensible.
Advice
This step called verification is indispensable. When the links are rigorous and coherent, you can be sure that you have not made a mistake, and that the found meaning is adequate.
Meaning of the dream
I drink a coffee. It's very good.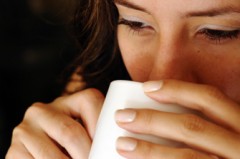 With this ending, the dream is giving Sabina a wink underlining the quality of her interpretation work. It's very good !
PUTTING INTO APPLICATION
Following the compliments given by the dream, Sabina will no doubt continue the conscientious work.
A comment
Foods are frequent dream images. If you are working with your dreams, it can happen that you dream for example of a hot chocolate, wine, champagne, pancakes.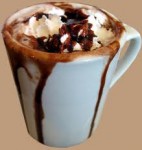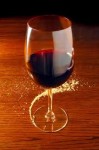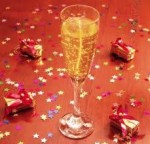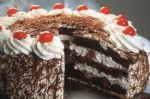 The basi ingredients such as chocolate beans, grapes, grains, composing these foods, can symbolize the dream symbols themselves ; fish can also symbolize the dream symbol.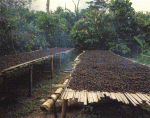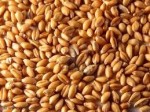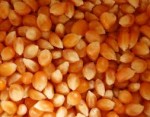 And all the culinary preparations requiring a lot of work often represent in dreams the dream interpretation work.
With much attention and love, you are transforming something, that cannot be assimilated as is, in a tasteful food. It is the same with the dream interpretation : your careful work transforms the symbols so that you can understand and integrate the fortifying message of the dream.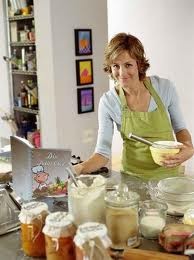 Illustrations
I thank all the artists and photographs whose works permit me to illustrate my blog.
Thinking woman :nexity-investissement.immobilier.com
Thinking man : sprlmajor.com
Cup of coffee : derekberry.wordpress.com
Coffee beans : colombia-travel
Roasting : cafevrac.com
mon-café.fr
Searching : leblogdanais.over-blog.com
Searching : photographie-g.jimbo.com
Coffee beans : coffeebeans.ic
Roasted beans : inetgiant.com
Roasted beans : fantom-xp.com
Coffee beans :cshisher.com
Coffee cup and beans : navi-mag.com
Coffee drinking : blog.thecoffeebump.com
Chocolate :chocolate-source-co-uk
Wine : terranova.fr
Champagne : madecoamoi.fr
Cacao beans : choco-club.com
Grapes : ardenne-photo.com
Wheat grains : fr.123rf.com
Corn grains : fr.wikipedia.org
In the kitchen : tribugourmande.com
09/11/2011
Last time we saw how my dream brought me to understand how flippant I was with my repeated incubations. I realized that the unconscious is a friend that one should not inconvenience. It gives us the information that it deems necessary and then it's up to us to make our decisions.
God gave us conscious faculties, the intelligence with the capacity to reflect, analyze and judge and the feelings. Using them, we can make a choice. So it is lazy to prefer to incubate a dream. Help is provided by a dream only when our conscious means are no longer sufficiant to help us because the solution is beyond the conscious' reach.
Here today is a beautiful dream that illustrates this.
This dream came to Anna at a time in her life when she faced a particularly difficult career decision, a perplexing choice between two completely opposite positions :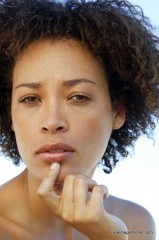 Dream
I am with the Virgin Mary, whom I know to be my close friend.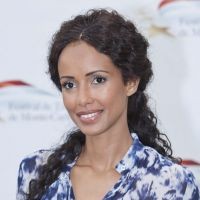 Mary asks about what is going on in my life. When I tell her of my pending career decision, Mary insists that we go to see a psychic named Ruth. I am reluctant to see a psychic.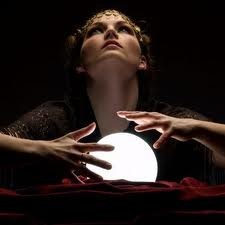 But Mary assures me that this one is so good that years earlier she has predicted the immaculate conception, Mary's marriage to Joseph, and the resurrection of Jesus.That makes me feel more comfortable.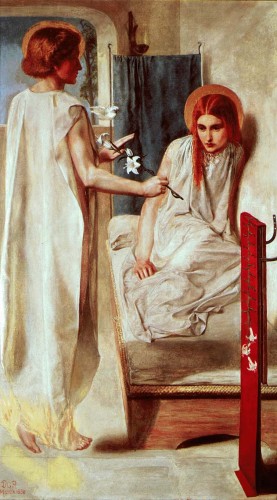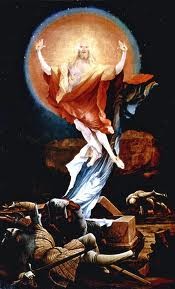 When we meet Ruth, I am very impressed – Ruth is everything an enlightened being should be.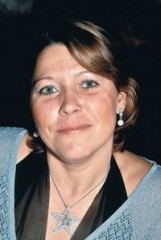 I pose my career-choice question to the psychic, only to get this response :
- What a wonderful opportunity you have, and I know you'll make the right decision !
The dream does not give any answer, but it exerts a stimulating effect on the dreamer, who by then has understood that the decision belongs to her. Even the best psychic cannot help her. And why would she do it, since Anna has within her the capacity to make her own decision ?
What a wonderful opportunity to trust one self and take the decision without incubation !
Bibliography
Dreams, Tonight's Answers for Tomorrow's Questions, Mark Thurston, Harper and Row, Publishers, San Francisco, p.99
Illustrations
I thank the artists for their illustrations listed in order of their presentation :
Perplexed woman : befully.com
Mary : Sonia Rolland, Miss France, actualite-portail.free.fr
A psychic : love-whoami.blogspot.com
Announce to Mary by the English painter and poet Dante Gabriel Rosetti, 1828-1882
Resurrection by the German painter and engineer Mathias Grünewald
The psychic Ameline: lesmeilleursvoyants.fr
Castle on River, 1820, by the German painter and architect Karl Friedrich Schinkel
07/28/2011
Dear blog friends,
We have been away from this blog too long and we often thought we should publish a little note to explain our prolonged absence. Now that we have a bit more time, we want to share with you the latest news concerning our work with dreams.
Christiane's comments
" My conference this year at the symposium of the International Association for the Study of Dreams (IASD), required a huge amount of time for preparation from November 2010 on.

The first task, accomplished by Judith, was the translation of the French conference. I had to cut out many details of the text because I speak slower in English and I had to respect the allotted time. But the most arduous work for me was to correct my thick French accent.
Going over the text numerous times with Judith, my English teacher, finally helped me to manage it.
As all the required prepations before the Congress worried me a lot, I was comforted by a dream which told me that everything was OK.
The symposium took place on the last week of June in Rolduc, Netherlands, near the German border. The magnificent building is an old abbey which has been converted into a hotel and congress center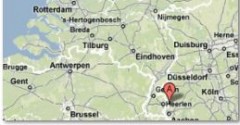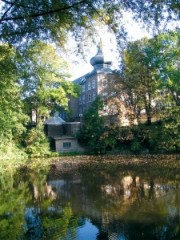 The four day symposium was a real success thanks to IASD's admirable organizing committee.
There were approximately 200 presenters and co-presenters, who together with the attendees represented 30 countries from around the world. This year's theme being "Dreams and Cultural Diversity", every attendee could choose according to his own interests among the presentations from so many different cultures.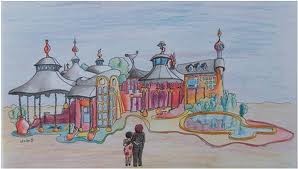 I had the pleasure of meeting with the American researcher Dr Scott Sparrow, whose work guided me 35 years ago when I first started working with dreams.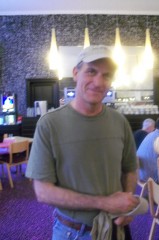 Among so many interesting dream lovers I met Layne Dalfen, a Canadian analyst, who, like me, explains dreams on her blog.
It was also the ideal occasion to meet with Europeans who share the same passion for dreams. Here are only some of them.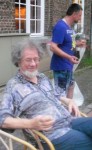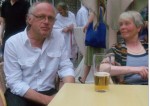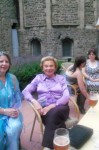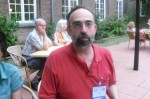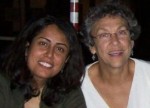 We will get together to pursue our common goal and spread the work with the dreams. As members of the European chapter of the IASD, we have decided to initiate some activities: exchanges through Internet and a yearly meeting. Harry Bosma, from Holland is our coordinator and he has created the site for our exchanges.

As for me, every morning from 8 to 9, I animated a dream group. Working with a participant's dream, I showed how to use the interview technique to find the meaning of the images.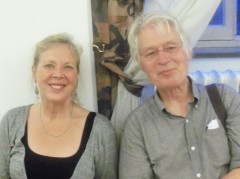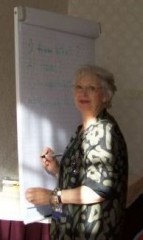 As to my conference "Loving and Sexual Scenarios in Dreams", some people said : " Interesting and funny !" I hope I invalidated some frequent prejudices linked to the interpretation of these images.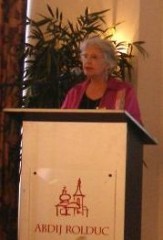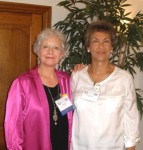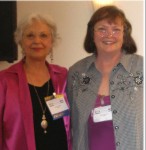 The congress closed with its traditional ball and the costume contest."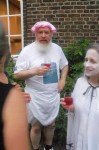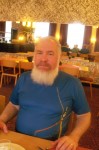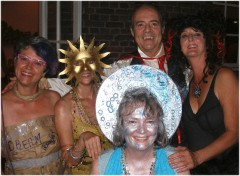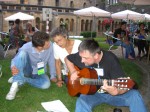 After those intensive days I had more work waiting for me upon my return.
(Oh my computer is bold... !)
" On the 8th of July I had been invited by a local radio network to participate in a night program from midnight to 6 in the morning. You heard me right.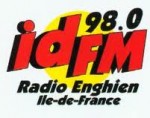 I spoke about dreams and I interpreted live twelve submitted to me by the listeners. I withstood it for 41/2 hours and then went home…rather tired. It took me two days to recuperate!
That night, while driving my car, guided by my GPS, I remembered with emotion a sentence I had heard in Rolduc :
"The most comprehensive TomTom navigating system and Internet explorer are found within yourself !" That sentence was spoken by the business man Jan H.Kieft in his remarkable conference "The Road to Enlightenment according to my Dream".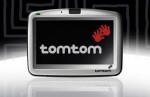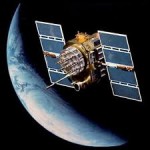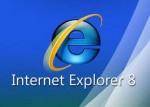 And I ask : Where is it within yourself ? In your dreams, of course.
Then in the following two weeks I prepared the intensive five day dream interpretation training seminar for my students. It has just ended.
So now I am free to pursue the studies on the blog!"
Next time, we will resume the studies on dream incubation where we left off.
Christiane and Judith
Illustrations
IASD logo : link on the left in the blue part of the blog
Painting : Dream and cultural diversity, by the artist Willem Fermont, Manager in the Netherlands Conference committee
Dr Scott Sparrow, pioneer in lucid dream and dream analysis, professor at the University of Texas
Layne Dalfen from Canada
Tony Hawkins from England " Rooted in Reality, Informed by dreams, Born of the Infinite"
?
Anita Leuthold from Swizerland, dream analyst
Anne Marie Gabella from Switzerland leads dream groups
Judith with Ghazaal Bosorgmehr from Iran, specialist of dreams in Iran literature with Jung's psychological approach.
Harry Bosma, developing the dream research and exchanges on Internet
Sakira Lanting and Mark Thuring, psychologists in Netherlands, attending Christiane's dream group
Christiane during the morning dream group
Christiane during her conference
Christiane and Judith, after the conference
Christiane and Brenda Ferrimani, American artist
Moon-Brenda and Sun in pleasant company
Richard Wilkerson, IASD web and office Manager
Curtis Hoffman, Professor of Anthroplogy and Archeology, also animates dream groups.
- Curtis disguised in baby
- Curtis looks like a Greek god