11/14/2011
Sylvia is lucky, her friend Mathilda is one of the dream interpreters I have trained and so Sylvia often asks her to analyze her dreams…, and following this she has been encountering some intriguing experiences.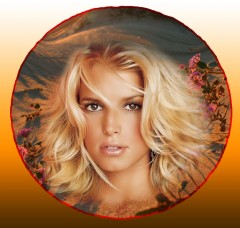 For example how could Mathilda know that Sylvia had forgotten to take her pill ? Mathilda didn't know but the dream she interpreted knew it and came immediately to warn the dreamer of her omission.
Did Mathilda know the future when, following the interpretation of a dream, she suggested that her friend leave her boyfriend Bernard before he leaves her ?
Mathilda does see into the future, but the dream does :
Sylvia dreams :
I see a beautiful blond woman in a swimming pool. I suddenly see her being "take from behind" by her boyfriend and she leaves immediately after.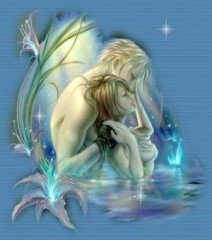 Interpretation
Mathilda warns Sylvia, represented by the beautiful blond, that Bernard is going to play behind her back, probably dump her for another woman. Sylvia should leave him immediately before he leaves her.
And what happens ?
Sylvia doesn't listen to her dream, she is in love and wants to stay with her boyfriend. Two weeks later she faces the humiliating fact that he has preferred to share his bed with another girl.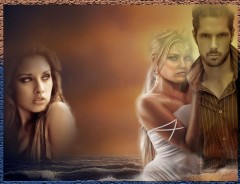 Now let's again consider the "benevolence" of dreams
Sylvia is unhappy at work and wants to quit her job. She would like to have a dream to guide her, but she knows that Mathilda is absent at that time, so she could not interpret it. Sylvia wonders what she should do. So she asks for a short, clear, simple dream that she can understand on her own.
Her question is :
- Tomorrow, should I tell my boss that I want to quit ?
Her dream
All night Sylvia hears the famous German singer Lafee singing her disco song "Shut up, shut up, shut up!"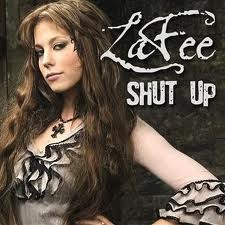 Interpretation
So she understands that she shouldn't say anything !
So, the next day Sylvia doesn't say anything. In the afternoon her boss tells her that the company is closing shop for two weeks and the employees will be on put on paid vacation. Having not been with the company long enough to warrant this, Sylvia is nonetheless given a paid vacation like all the others. If she had quit, she would not have gotten this "bonus". She quit after her vacation.
How about that ! How can dreams know?
It's " too much" how they know past and future ! It's really amazing how they prove to be right !
Sylvia then decides to ask her dreams a question :
- What are dreams?
We will see the answer next time.
Meanwhile do you remember Nathalie's incubation (Chapter 2; 02/16/ 2011) : She made the same inquiry as Sylvia. She was so astonished by her dreams that she asked them several questions one night.
- My dreams, who are you ?
- Is it God answering in dreams ?
- And even does God exist ?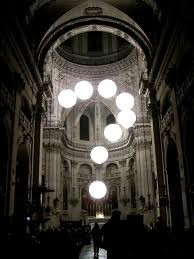 Illustrations
I thank the artists for their illustrations listed in order of their presentation :
Blond woman : sosuneterrienneendetresse.centerblog.net
Greatly vexed : sosuneterrienneendetresse.centerblog.net
? : lunettesrouge.blog.lemonde.fr
09/11/2011
Last time we saw how my dream brought me to understand how flippant I was with my repeated incubations. I realized that the unconscious is a friend that one should not inconvenience. It gives us the information that it deems necessary and then it's up to us to make our decisions.
God gave us conscious faculties, the intelligence with the capacity to reflect, analyze and judge and the feelings. Using them, we can make a choice. So it is lazy to prefer to incubate a dream. Help is provided by a dream only when our conscious means are no longer sufficiant to help us because the solution is beyond the conscious' reach.
Here today is a beautiful dream that illustrates this.
This dream came to Anna at a time in her life when she faced a particularly difficult career decision, a perplexing choice between two completely opposite positions :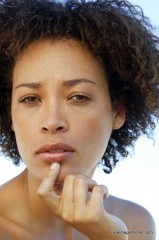 Dream
I am with the Virgin Mary, whom I know to be my close friend.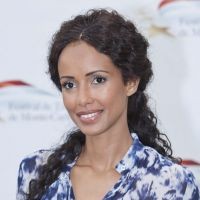 Mary asks about what is going on in my life. When I tell her of my pending career decision, Mary insists that we go to see a psychic named Ruth. I am reluctant to see a psychic.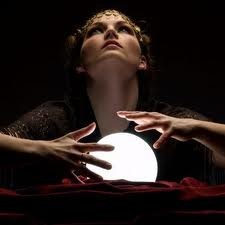 But Mary assures me that this one is so good that years earlier she has predicted the immaculate conception, Mary's marriage to Joseph, and the resurrection of Jesus.That makes me feel more comfortable.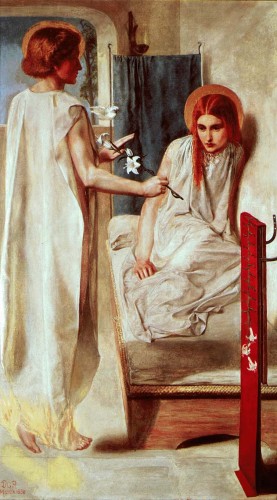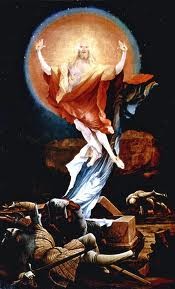 When we meet Ruth, I am very impressed – Ruth is everything an enlightened being should be.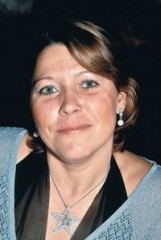 I pose my career-choice question to the psychic, only to get this response :
- What a wonderful opportunity you have, and I know you'll make the right decision !
The dream does not give any answer, but it exerts a stimulating effect on the dreamer, who by then has understood that the decision belongs to her. Even the best psychic cannot help her. And why would she do it, since Anna has within her the capacity to make her own decision ?
What a wonderful opportunity to trust one self and take the decision without incubation !
Bibliography
Dreams, Tonight's Answers for Tomorrow's Questions, Mark Thurston, Harper and Row, Publishers, San Francisco, p.99
Illustrations
I thank the artists for their illustrations listed in order of their presentation :
Perplexed woman : befully.com
Mary : Sonia Rolland, Miss France, actualite-portail.free.fr
A psychic : love-whoami.blogspot.com
Announce to Mary by the English painter and poet Dante Gabriel Rosetti, 1828-1882
Resurrection by the German painter and engineer Mathias Grünewald
The psychic Ameline: lesmeilleursvoyants.fr
Castle on River, 1820, by the German painter and architect Karl Friedrich Schinkel
04/12/2011
In the preceding pages I showed you how current dreams had come to answer Irina's recent questions. Incubating a dream still works nowadays as it did in the old times.
I will illustrate this by going back in time and talking about dreams and dream incubation in ancient societies all through Antiquity.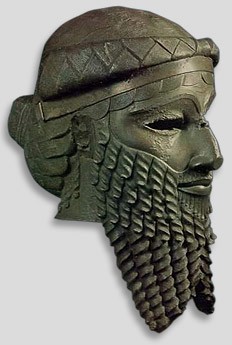 In Asia Minor and throughout the Mediterranean region
We find the same situation. The study and interpretation of dreams go back as far as the early archeological remains bear witness to it. 7000 to 8000 years ago the inhabitants of Mesopotamia interpreted their dreams. The picture here shows the Sumerian cuneiform tablet where is written the Epopy of Gilgamesh, with the dream of the Deluge. 1000 years later this dream inspired the story of Noah's Ark in the Bible.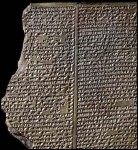 The Sumerians, the Egyptians, the Greeks, the Romans and the Hebrews maintained this way of living in contact with their dreams, as attested to by numerous passages of the Bible.
1700 years B.C. Pharaoh called upon a Jew, Joseph, to interpret his dreams and thereby he averted a famine in Egypt. ( Genesis, Ch. 41)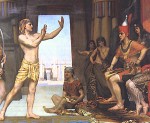 One thousand years later the king of Mesopotamia, Nabuchodonosor II,( 630-562 B C) asked another Jew, Daniel to tell him the meaning of his dreams. Daniel interpreted the dream and explained to the king that his megalomania would result in a psychotic episode in his life.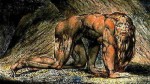 However, after several years of madness, he would come out of it with humility, recovering his power and glory. And that's what happened. ( Daniel, Ch. 4)
In the Greco-Roman world
There existed a very famous dream interpreter. He is better known as the father of Western medicine. His name is Hippocrates who lived 600 years B.C. He came from a family of dream interpreters dedicated to the god Aesklelpios, the god of dreams and healing ; they bore the responsibility of three functions, that of priest, doctor and dream interpreter, as the three were considered inseparable.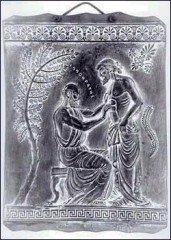 The temples/hospitals where people came for treatment were numerous. In Antiquity there were 420 of them. The sanctuary of Kos, where Hippocrates officiated, was very famous, such as the one of Pergame, where 800 years later, at the beginning of the Christian era around year 250, pilgrims still flocked from the whole Mediterranean region.

Incubation and dreams
Praying Aesklepios in Greek, or Aesculapius in Latin, god of dreams and healing.
The pilgrims prepared to dream on a specifically chosen night. They received a very modern, natural and holistic treatment, prescribed by the priest/doctor : they followed a special diet, took baths, received massages and prayed. Then the priests and the pilgrims met in the temple in a sacred place called Aesclepeion, dedicated to Asklepios.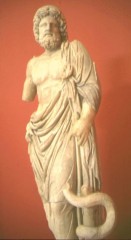 They slept there one or several nights, and the priests collected their dreams the next morning.
What dreamers dreamt and experienced during these nights has been reported. It was very well known that the god intervened in different manners : either he healed immediately, either he manifested his presence in dreams with the image of a snake or a dog.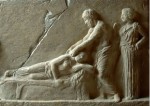 Western medicine has taken up the symbol of the snake but has forgotten its meaning.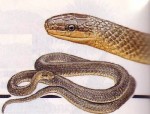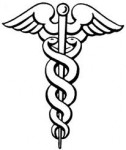 In the dream the god also explained the treatment to be followed in order to heal.
On site, many ex-votos thank Aesklepios for the healing.
You can see here an ex-voto with a hand, showing a kind of abscess , which was cured after the night spent in the Aesclepeion.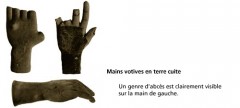 Today, I have spoken about dreams and incubation in Antiquity among Sumerians, Jews, Egyptians, Assyrians, Greeks and Romans. Next time we will see a especialy fascinating dream from Antiquity at the time of Christ.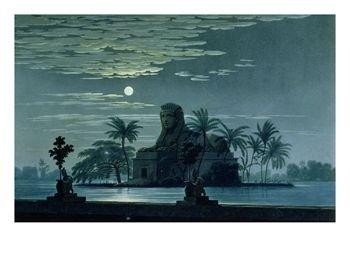 Illustrations
I thank the artists and photographers, whose works permit me to illustrate my blog.
Joseph interpreting Pharaoh's dream
Nabuchodonosor who became mad, by Blake
Hippocrates with a patient
Aesclepeion in the sanctuary of the Kos Island in Greece
Aesclepeion in the sanctuary of Pergame, in Turkey
The god Aesklepios, the god of dreams and healing
The grass snake accompanying the god Aesculapios
The caducei of Aesclepios, with snakes, symbol of healing
Ex voto with a hand, showing a kind of abscess
Sphinx under the moon by the German artist Schinkel , 19th century
03/11/2011
In the preceding pages I have introduced you to dream incubation. This practice permits us to receive from the unconscious information that the conscious is unable to have access to.
I showed you how this practice is still valid today as in the ancient times and how to proceed.
Last time, with Irina's example we saw how her dream answered her and showed her that the lover she was thinking of was not a good prospect.
So again she asks what she could do to meet a suitable partner.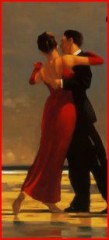 The dream gives her new and surprising information. Let's have a look at this second dream.
Dream
My sister Eva shows me a building where she goes to feed a cat. Every time she arrives, he rushes towards her.
I show Eva a pretty bra which I have just bought. But I notice that the cat is slipping away. My sister says I have to bring him back.
This dream is absurd ! The images don't seem to have any connection from one to another.
However, let's see the interpretation and look at the different symbols :
Eva
She's Irina's sister, she's assertive and knows what she wants. She is very independent and hates constraints.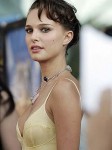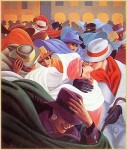 Eva represents Irina's single woman aspect. Any beau that approaches her is made to understand that she doesn't want a one night stand but that she doesn't want a relationship where she would be subservient either. She is looking for a loving relationship without constraints based solely on the pleasure of being together when possible.

A building
For the dreamer it's where the occupants share common habits.
Irina hopes that the dream will show her how to find a suitable partner.
Following the interview technique, now I have to ask what this description reminds her of, in regards to her incubation question.
So I proceed very methodically and say :
- Having asked your dream how to find a suitable partner, what does a building, where the occupants share common habits remind you of ?
- Oh ! says Irina, that reminds me of the singles club where I go regularly.
A cat
For Irina, this animal is an independent male who goes out at night to hunt or chase a "beauty". Isn't that the description of a man?... So the dream, through its symbolism, is talking about a man, whom Irina knows well and meets regularly. Who is this man ?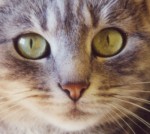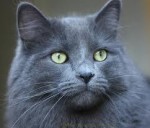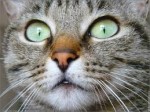 Now, is the dream giving more precise details ?
She goes to feed this cat.
What does she feed him with ?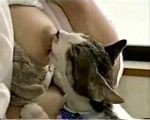 With flesh? Who is this man with whom there is contact of the flesh?
Among the many men she dances with at the club, who is the man the dream is singling out ? Let's examine the next image :
Every time she arrives, the cat rushes towards her.
- I see, Irina cries out, that's Frank. He always comes to get me when he sees me. He'd like me to go out with him, but I'm not really attracted to him.
Let's go through the verifications: is this man independent? He sure is.
So why does this independent man rush to meet her ? Because she is also independent and he knows that she's not the "you and me forever" type.
- But, remarks Irina, another man also rushes towards me, it's Stephan.
Frank ? Stephan ?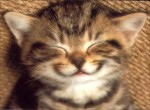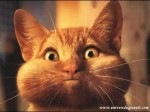 We haven't got a clear answer yet. So let's see if the following part of the dream gives us more precise clues.
I show Eva a pretty bra which I have just bought
A bra enhances the breasts.
It allows a woman to use her power of seduction, it gives a charming glimpse at feminine eroticism.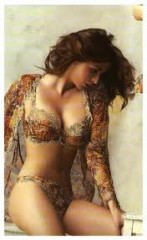 - As a matter of fact, Irina adds, lately I've changed, I've bought new outfits, less sober, much more sexy.
And so the dream underlines the efforts made by our dreamer to seduce the men around her.
Irina bursts out in a joyous, refreshing laughter and says:
- You know, Christiane, I am quite popular !
I notice that the cat is slipping away.
Well, while the pretty woman is savoring her popularity with one and the other, all of a sudden the tomcat is running off.
Is it Frank or could it be Stephan?
- Ah! It's true, says Irina ! Frank is turning away from me because I haven't responded to his advances.
And what does the dream say?
My sister Eva says I have to bring him back.
Well there we are !
Eva, the woman who knows what she wants gives this advice.
-Gosh ! says Irina. Frank ? I would have preferred someone else. He's not bad but it's not love at first sight.
Yes, but the dream considers Frank a real male, an instinctive virile man, this is quite different from insect infested branches as in the preceding dream.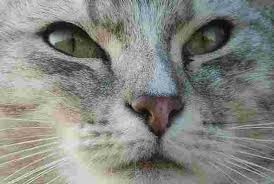 Maybe Irina should remember that she wants enjoyable sexual relations and therefore change her point of view.
Well, now we have the indications of the dream. They are not what Irina expected but they bring something new. Irina doesn't know everything, perhaps her view is limited to the surface, the appearances.
- Listen, she says, Christiane, I've been working with you interpreting my dreams for a couple of months and everything you've told me concerning them has been so exact. If I had listened to them, I would have avoided lots of trouble. So I'll see, I'll go and meet him.
But she has to hurry, he's taking off.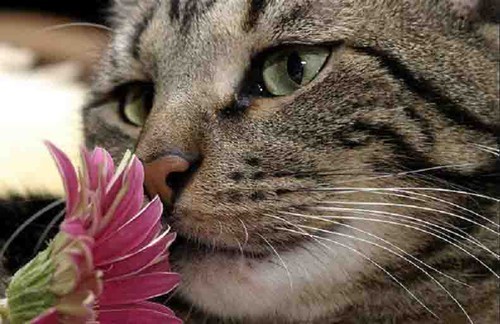 You will find the text in french on the french blog
http://christiane-riedel.blogspirit, 12 May 2007, (05 10 2007)
Illustrations
I thank the artists and photographers, whose works permit me to illustrate my blog.
Laughing cat : maxcrabouif.zeblog.com
Cat : fond-ecran-image.com
Cat : pixfr.eu
Cat : naturailes.org
Bra :cannnes.olx.fr
02/26/2011
In the preceding text, we saw how to make an incubation. Now let us see how the dream answers Irina's question.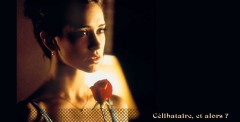 Irina is in the habit of asking her dreams for guidance. She is a pretty, single woman in her fifties, who would like to be in a loving relationship. She doesn't want to live full time with the partner, but wishes to share with him pleasurable week-ends and vacations.
She has just met Julian, whom she likes and asks her dream if he would be a suitable mate.
I went to fetch tree branches; I see myself flying at the top of a tree taking some branches.
Dream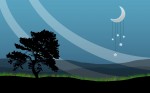 I bring them back and lay them in my parents' backyard. They yell out to move them away, for hardly had I laid them on the ground, that ants and other creeping insects came out of them.
Interpretation
Flying
This image : Irina flying in the air, is indicating that Irina has merged with the realm of ideas, the domain of thoughts. She is thinking of the possibility of a relationship with Julian.
She takes some branches.
For Irina, what is a branch?
She answers: a branch is connected to a trunk, it is fragile, it is a natural elongated growth.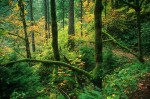 Keeping in mind the incubation question, I recapitulate her description and ask her :
- Irina, when you are thinking of a relationship with Julian, what does an elongated fragile growth that is connected to a trunk remind you of?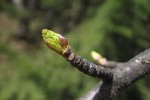 - Oh !You are implying that it corresponds to the male genitals?
- I'm not implying anything, I'm just reformulating your description.
We agree that it follows logically, that the tree branches represent this man's erections.
So, the dream directly addresses Irina's question.
It says :
- You want to know if an intimate relationship with Julian would suit you ? Well, let's look what will happen.
The dream gives indication in the 2 following scenes :
1) I bring the branches back and lay them in my parents' backyard.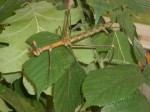 If she enters into a relationship with this man, it will occur within a frame resembling her parents' relationship :
Irina cried out :
-"Oh! but I don't want that, my father was sweet but he was a wimp and my mother had to take responsibility for everything. She didn't have a life of her own. Ok, I understand.
What does the second scene show ?
2 The parents yell out to move the branches away.
Despite this awareness, if Irina decided to live with Julian, she'd immediately have to move aside the branches … that is, remove herself from contact with his penis. That means to give up on sexual relations. Why?
The dream indicates the reason in the following image.
Ants and other creeping insects are coming out of the branches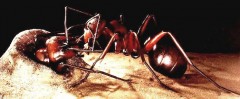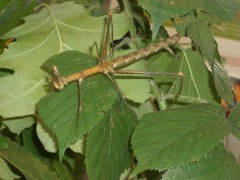 The ants and creeping insects indicate reactions of the nervous system over which we have no control.
These are physical swarming reactions, vague and unpleasant sensations which disgust and causes one to flee.
With these images the dream describes what Irina will experience in the sexual relation with Julian.
The dream points to a "malaise", a disgust, an irritation of the senses. A sexual encounter with this man would be ill-advised, the sexual relation would be frustrating for Irina. This man will immediately get on her nerves.
Irina is quite upset. She understands her dream and accepts the warning, but she thought that Julian was not so bad. Whatever, she won't go further with him.
After this dream, Irina, is very disappointed.
But she has just had another dream, which pertains to the same question.
Next time we will discover what dreams have in store for Irina.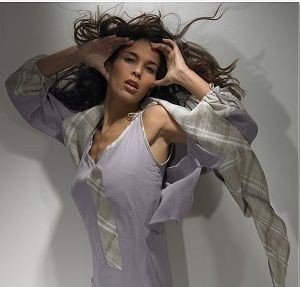 You will find this text on the French Blog :
christinae-riedel.blogspirit.com, 10 May 2007, (05 10 2007)
Illustrations
I thank the artists and photgraphers whose works permit me to illustrate my blog
Branches :www.xfrogdownloads.com
02/05/2011
Dream incubation is asking the dream to give you a solution to a problem. It is a timeless practice all over the world.
Let's start with some contemporary examples.
Lately on ARTE TV*, I was watching a very interesting program on ginseng (jin shen) meaning "root man" because of its' vaguely human shape. The value of this beneficial root constitutes a growing source of income for the South Korean economy.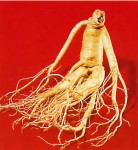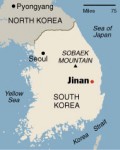 It is increasingly known and imported by the western world for its numerous health benefits, and it is very expensive! The real ginseng is harvested primarily in Korea, ( Jinan) making it an important asset for their economy.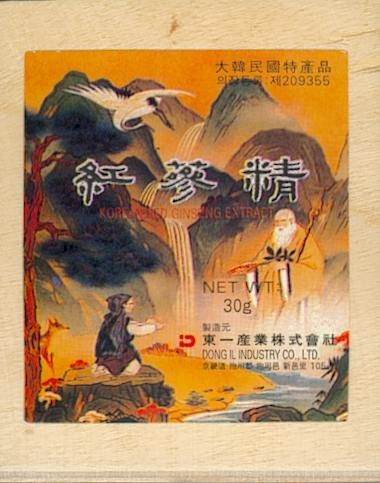 The wild ginseng is very rare and more expensive than gold, however it is not easily found. These roots develop totally hidden underground with nothing showing on the surface.
What is the link with the dream incubation ?
The peasants, thanks to a dream incubation, know how to find these roots in a secret location in the mountain.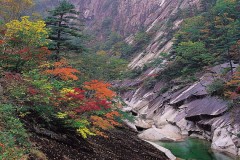 They put their tents up on a spot for a week or more. The day before beginning their search, with respect they repeat their ancestors' ritual of purification by bathing in the river. Then at a chosen location they erect an altar and light candles. There they deposit offerings to the "god of the mountain": cloth to dress him, a pig's head, beautiful fruit and other appetizing foods.
In prayer, they bow before the god and they ask to be given a dream that will show them where the roots are located underground. Then after bowing repetitively they retire to their tents to sleep and dream.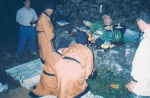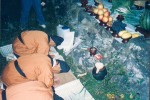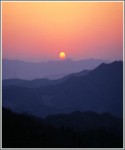 What a pleasant surprise !
There they were, filmed by an ethnologist and the ARTE crew, people who to this day still practice what men have been doing for thousands of years… incubating a dream or showing how one prepares himself to dream.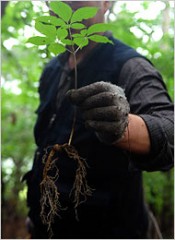 This is not only the case in Korea ; in China also incubating dreams is still practiced today as it was in the old days. Then the Chinese used to go to temples where they asked and received inspirations and instructions. It was even considered an obligation for the dignitaries and rulers to go there officially to seek advice from dreams as to the affairs of the state.
Hardly imaginable nowadays. Can you imagine our politicians incubating a dream?
In China today, a pilgrimage to get counseling from dreams still exists. This reputable place is called « The Stones and Bamboos Mountain ».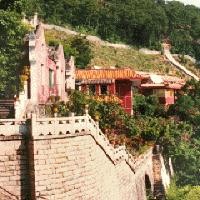 An individual comes to ask and receive a message from the gods as to the appropriate behavior to adopt in his situation; another comes for a diagnosis or even seeking information on the appropriate treatment for his ailment. All come with the intention of following their true destiny, wishing to add breadth to their lives. So, pilgrims still come to consult dreams on all kinds of subjects.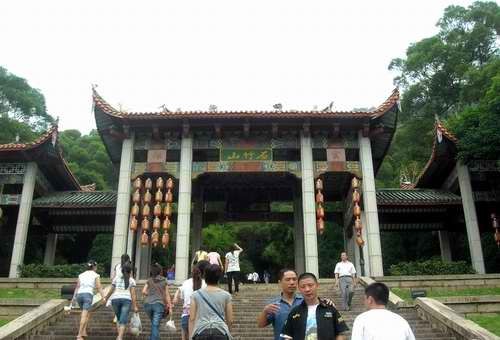 Does that practice still only exist there, at the other end of the world ?
Soon I will tell you.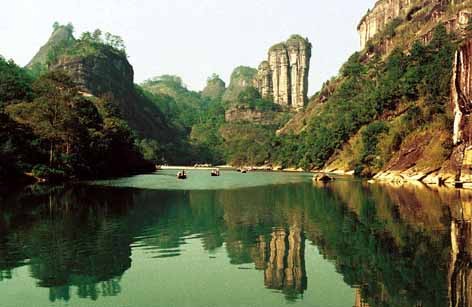 You will find this article on the French blog : 06 May 2007
* Arte TV : French and German channel specialized in Art and Culture
Biography :
" The Stones and Bamboos Mountains», article in "Terrain 26", March 1996, edited by the French Culture Ministry.
This article is written by Brigitte BAPTANDIER, Research Director in the Laboratory of Ethnology and Sociology at the National Center of Scientific Research in France.
Illustrations
Mountain-Spirits and Korean Ginseng : www.rjkoehler.com
The Stone Bamboo Temple : www.chinatourme.com
The Stone Bamboo Mountain : : www.chinatourme.com